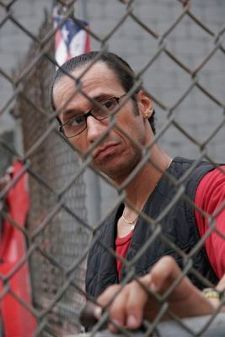 Here and There, getting some decent exposure.
Before all the films at the Tribeca Film Festival there's a pretty funny - even on repeat viewing - short in which a woman who is flashed in Central Park ends up asking the flasher for a date. The tagline is: "Think you've seen everything in New York... think again."
It's certainly true that even a walk up the street in this most cosmopolitan of cities is never short on interest. And while last year's festival diaries were peppered with tales of dogs in togs, this year's phenomenon seems to be the scooter. I'm referring not to those hairdryer-assisted vehicles beloved of posing Italians but the rather less iconic toys normally reserved for the under-10s in the UK. Here, they seem to be the province of the over-40s, several of whom I've spotted propelling themselves gleefully along the street in an acceptance of something one suspects would be a pretty hard sell to the average Brit.
This sort of embracing of the new, different or just plain wacky, thankfully extends to the Tribeca Film Festival itself. It may be young and perhaps lacking the discipline and experience that comes with older festivals, but there is something to be said for the vibrancy and open-mindedness of youth. And when it comes to energy, Tribeca Film Festival has all the sprightliness you would expect from something currently hitting its eighth year.
There has been plenty of change in the life of the festival over the past few months, with Sundance kingpin Geoff Gilmore signing up to be Tribeca Enterprises creative officer after quitting Robert Redford's Utah baby after 19 years at the helm and long-time Tribeca artistic director Peter Scarlett saying a swift farewell just two months before this year's festival opened, before heading out to work for the Middle East International Festival. But is change really a bad thing? Certainly many Stateside seem to think that the problem with Tribeca is a lack of clear identity. This week, John Anderson in New York alternative weekly The Village Voice suggests the festival "dwells in a no-man's land" adding that "it can't be a major player in April because it doesn't have the cachet to draw films away from next month's Cannes". He goes on to speculate, as Variety's Todd Carty did before him, on the possibility of the festival moving to autumn.
It's true that festival log-jam is increasingly becoming a problem. There are more and more festivals springing up and, inevitably, this leads to a dilution of quality product - assuming there is a finite number of superlative films out in the world in any given year, they can only premiere in one place and premieres, of course, hold out the tantalising promise of publicity. But, although the glitz is necessary for the advertising blitz, I wonder if comparing Tribeca to Cannes or - more frequently - to Sundance isn't rather like trying to match apples with oranges.
Tribeca does shares certain aspects in common with the festival in the snow, not least a devotion to breadth of scheduling and an investment in up-and-coming artists - through its Tribeca All Access programme, which aims to nurture talent in a similar, if not as extensive, way to the Sundance Institute's programmes - but every festival is a different animal... and let's be honest, every festival has good and bad years.
With a leaner slate this year - just 85 features and 46 shorts, down considerably from last year's line-up, which itself was a trimmer selection than the year before, it could be that good things will come in small packages. Although its early to make any full critical judgements, there certainly seems to be plenty of strength in a line-up with kicked off with Woody Allen's return to Manhattan, Whatever Works, and includes high-profile international fayre such as Berlin Silver Bear winner About Elly, and Oscar-winning Departures, while Stateside offerings of interest include Kirby Dick's latest documentary Outrage - about the hypocrisy of gay politicians - the Polish brothers latest Stay Cool and Serious Moonlight (written by Waitress writer/director Adrienne Shelly who was murdered just on the brink of fame).
Tribeca also scores heavily when it comes to serving its local community, with several free 'drive-in' screenings.
After last year's break-out winner Let The Right One In going on to garner more or less universal acclaim, it seemed appropriate to kick off the festival with one of this year's Swedish offerings - Swimsuit Issue. Following in the footsteps of the likes of British comedy dramas such as Calendar Girls and The Full Monty, it is charming to a point but unfortunately lacks their weight.
Next up was Iranian film About Elly, which has already seen director Asghar Farhadi scoop the Silver Bear at Berlin. An old group of pals take a trip to the coast and one of them, Sepideh (Golshifteh Farahani), brings along her daughter's teacher in hopes of matchmaking for her with a pal whose marriage has gone south. Despite starting as an upbeat adventure, the peace is shattered and things take a turn for the dark. Much more a genre film than the overtly political movies which often make the film festival circuit, Farhadi has an enviable eye for composition and handles the shifting tone of the film from brightness to bleakness with finesse. Special praise should also be given to Farahani as Sepideh, who makes her character's descent from the life and soul of the party to desolation utterly believable.
Day Two brought fresh surprises, not least of which was a roundtable with the Brothers Polish (about their film Stay Cool) and actor Sean Astin. After the event, Astin asked me where I had flown in from, when I told him Edinburgh, he said: "Oh your Scottish woman's doing really well, isn't she?" Yup, he was, indeed, referring to Britain's Got Talent "singing sensation" Susan Boyle, revealing he was "crying" when he watched it. Michael Polish was less impressed, asking him: "You didn't buy into that?" "Yeah, completely, I love that kind of stuff," Astin replied ... and so the Boyle publicity rumbles on.
Back on the subject of the film - I'll be bringing you a full details of the roundtable soon - it is, in essence, an age-swap comedy without the age swap. Michael Polish is writer Henry McCarthy, a writer, who on returning to his hometown after 15 years finds you don't need a fairground make-a-wish machine or a Delorian to end up in a timewarp. His old pals are still there and he soon finds himself thrust into the role he had as the school geek years before - his old teacher is still a battle axe, his dad still has issues with lending him the car and, most importantly, he's still completely hung up on the unrequited love of his life - Scarlet.
The big issue with the film - which looks terrific and wonderfully evokes the feeling and colours of the Eighties without having to play around with time - is that it is the head that rules rather than the heart, never a good thing when you're in romcom land. It's all very clever to cast Eighties heroes we haven't seen for a bit in archetypal roles - Astin (Goonies), Winona Ryder (Heathers) not to mention Dee Wallace Stone as the mum and Michael "the dad from Family Ties" Gross, as the dad - but clever doesn't necessarily equal connection and somehow the relationship between Ryder's Scarlet and Polish always feels oddly at arm's length. Despite having Hilary Duff as a cutesy teen, it feels like it needs a serious dose of ditzy to leaven the cerebral stuff. Ultimately, like the central character, it is more admirable than likable.
I'm hoping to bring you pictures from the roundtables, too, but due to yet another variation on the theme of Amber-shouldn't-play-with-cameras (see Festivals passim), I forgot the 'proper' snapper and had to make do with my camera phone. Sadly, it and my netbook are now behaving like spoiled children, who refuse to share. I've threatened to stop their pocket money, though, so it can only be a matter of time before they break.
Next I headed to Here And There, where I was surprised to see Meg Ryan in the audience, until I remember that she is one of the narrative jurors here this year, alongside Bradley Cooper, Richard Fischoff, Todd Haynes and Uma Thurman.
Here And There is one of that breed of romantic dramas involving older protagonists (think, Away From Her, Saraband) and centres on Robert (played by David Thornton). He's a middle-aged misery guts with a penchant for a drink and no cash or home, when he meets young immigrant Branko desperate to get his girlfriend into the US. He agrees to take a trip to Serbia, marry the young gun's girl and bring her back, but on arrival in the European country he finds himself slowly falling for Branko's mum.
Although the plot treads a fairly well-worn path, despite its unusual dual country setting, it is charming and lifted immensely by the performances of Mirjana Karanovic (so good in 2006's Das Fraulein) and Thornton.
I wrapped up the day with the narrative filmmaker Meet And Greet, which turned out to be a lot more fun than I expected. I got chatting to UK writer/director Julian Kemp (who directed House!), who turns out to be - as so many directors are - an enthusiastic and, at the risk of sounding far too British, an all round good egg.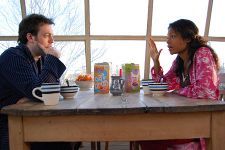 His latest film, My Last Five Girlfriends, had its world premiere here on Thursday and I'm looking forward to seeing it since I hear there are distributors interested and, more importantly, it is going over well with audiences. Based on Essays On Love by Alain de Botton, Kemp tells me his adaptation is a lot less of an "intellectual exercise" than the original, which could well be a good thing, since it is a romcom, apparently he has added a lot more pop culture references to make it more filmic and accessible.
I'll tell you more once I've seen it. But, in the meantime, you might want to check out Julian's Lost Picture Show podcast, which aims to uncover and celebrate forgotten movies - as soon as I get time, I know I will. But for now, if you'll pardon the pun, I've got to scoot.
Share this with others on...