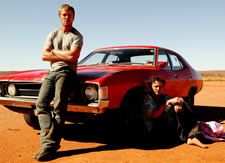 Cactus will close the Film Festival
With Baz Luhrmann's epic Australia recently becoming the country's second-highest grossing film after Crocodile Dundee, and Adam Elliot's Mary And Max the most warmly welcomed Sundance opening night film for some years it has already been a very good year for filmmaking Down Under.
This week, some of the best of Australia's 2008 movies will be showcased in the London Australian Film Festival, at the Barbican, before a select few go on tour across the country.
Things are in a state of flux in the industry at the moment, with the inauguration of the Australian Government's Screen Australia – which merges the functions of the Film Finance Corporation, Film Australia Limited and a large proportion of the duties of the Australian Film Commission. Its mission statement is to be "a strong centralised funding body, encouraging greater private investment in Australian film and television and building on the enormous contribution the industry already makes to the Australian economy".
The merger has brought a new funding regime, including a producer offset, which permits filmmakers with budgets of A$1m (around £470,000) or more to reclaim 40 per cent of their Australian outlay, no matter what or where they are shooting, provided a cultural test is passed.
It means the country now has one of the best sets of financial incentives anywhere on the planet - but there is no doubt that it is weighted towards bigger budget ventures which have the potential to pull in large audiences. And there have been concerns raised that the new funding regime, which puts an emphasis on filmmakers with a good track record or a highly experienced team behind them, might serve to stifle newcomers to the industry.
Established camerawoman Jasmine Yuen-Carrucan – whose writing/directorial debut Cactus is the closing gala of LAFF 2009 – says: "I find it frightening."
When asked if this is a burgeoning time for the Australian film industry, with new voices coming to the fore, she says: "I think it was, but in July last year they changed the system completely and now it has all been brought to a halt in a way. The funding system and tax incentive system has been taken away. So the incentive for people to invest money outside of Government money is gone.
"I don't know what will happen. They have introduced a whole rebate system that's more producer based rather than film based and people are still trying to work out how to apply it. When that happens – and now it's, like, six months or more down the line, when they're still trying to work it out, it's not a good sign. So I'm not sure what will happen, but I guess it goes in cycles – that's all I can hope."
Veteran producer Richard Brennan - who was behind Newsfront and Long Weekend, plus several other features and shorts screening at the festival - says there are pros and cons to the new system.
"It's a very new period. It's a big thing," he says.
"I think [Screen Australia] are finding their feet and are trying to work out how they're going to do the funding. I think that what's put it in this producer-driven situation is the fact that, apparently, none of the films that they've developed – I shouldn't say none, there's sure to be an exception somewhere – but of those that were developed simply by a writer, none have gone into production.
"On the other hand, the big hole in funding producer-driven films is that there are a lot of very experienced producers who are also very bad producers."
He concedes that there is much more pressure on filmmakers to perform to a high standard on their first outing than there was when he was starting out back in the 1970s.
"Newsfront was wholly funded by the New South Wales Film Corporation. To be able to get that sort of uncomplicated financing now… I mean you can wish that for other people, but it's not going to happen.
"You need to be getting a local distributor, overseas distributors, co-finance – you've got seven or eight fingers in the pie. Until about 10 years ago, if I could persuade people that it was a good enough script and I could make the film cheaply enough – and I was very good at making films for a small sum of money – then I had no interference at all. Now, there's just a hell of a lot of fingers in the pie. That's management by committee.
"The other thing that was just good fortune for us was that we learned on the job. These days, if your first film isn't a success, you probably won't make a second. God, the film I produced after Barry Mackenzie [Promised Woman] was so wildly unsuccessful, these days, I wouldn't have got as far as Newsfront."
Whatever the prospects for the future, there is certainly plenty to be celebrated this year, as the festival celebrates its 15th edition. As well as giving cinemagoers a second chance to see the likes of Baz Luhrmann's epic and Gillian Armstrong's Death Defying Acts, there's also a chance to catch some older gems as well as the work of up and coming filmmakers.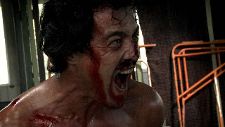 The Horseman, showing as part of the Australian Film Festival
In addition to the films produced by Richard Brennan - some of which he will introduce - the archive films to be screened are cult comedy horror
The Cars That Ate Paris
and Stephan Eliot's taboo-busting crowd pleaser The Adventures Of Priscilla: Queen Of The Desert. The latter screening will feature a brand new performance by 'drag fabulist' Dickie Beau before the screening and cinemagoers are invited to attend in their "most flamboyant finery" to be in with a chance of winning a prize on the night.
Box office returns for Australian-made films in their homeland had sunk to a low ebb by the end of last year - struggling, according to several reports, to reach one per cent of the market share. This prompted Tony Ginnane, president of the Screen Producers Association of Australia, to say the current "dark, depressing, bleak pieces are the equivalent of ethnic cleansing".
Looking at the variety of films, showing this week, it's true that several do have a darker tone. The Horseman is a bloody tale of a father's revenge, while The Dying Breed's story of cannibalism can hardly be called light entertainment - yet both have commendable aspects. And if Three Blind Mice, a tale of three sailors spending a night in Syndey before shipping out to Iraq, has a dark edge, it also boasts top-notch performances and some deeply black humour.
Lake Mungo, about a family haunted by their dead daughter, is as much an examination of grief as it is a spooky little ghost story, while thriller Cactus offers a surprisingly positive message about people's innate humanity. There are also some great documentaries, and while The Oasis reveals the problems faced by kids on the street, it also emphasises the role of others in helping them get out of their self-destructive cycle. Meanwhile, In My Father's Country offers a rare insight into the Dhuruputjpi community in norther Australia as a young boy is prepared by his elders for an initiation ceremony into manhood.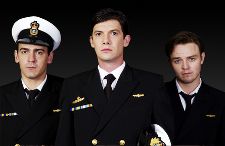 Three Blind Mice
Plus, there's a chance to catch The Square, the feature debut of short film director Nash Edgerton (
Spider
). A tale of double-cross, blackmail and murder, Richard Brennan is clearly a fan.
"Nash Edgerton is a terrific director," he says. "The movie's had a mixed reception. A lot of people think it's the Australian film of the year, a lot of people are disappointed in it. It tends to hinge on how much you respond to the choice of the leading man, for some people he's a dud and for some people he's perfect.
"But I think, one way or another, if you see that film and you can't see what a talented director Nash is I don't think you've got much of an eye. If I could pick somebody to direct a good commercial thriller in Australia, Nash would probably be my first choice."
The 15th London Australian Film Festival is screening at The Barbican until March 22. Read our full coverage of the festival here and, for tickets, visit the official site - where you can also enter a draw to win a hamper of Aussie treats. We'll bring you news of the festival touring dates and venues when they are announced.
Share this with others on...