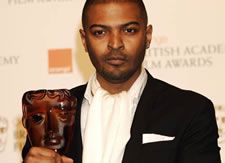 Noel Clarke with his Orange Rising Star BAFTA Photo: BAFTA
He might be a talented actor, writer and director, but Noel Clarke doesn't get much in the way of unusual fan mail. "I'd probably like to get more weird things," he jokes. "I always hear about people getting pictures of ladies in their pants and stuff – I never get any of that!"
Saucy snaps or not, his postbag's bound to swell as his profile grows around the globe – especially now that he's won the Orange Rising Star Award at this year's BAFTAs.
"Winning the BAFTA has been, I guess, the highlight of my career and it was fantastic to take it home," he says. "It was a big surprise. I think you can see me say 'Yes!' when it's announced because I definitely wasn't thinking about getting it. I'm always wary of bookies because they usually know what they're talking about, and they had me as third or something like that, with Michael Cera at the top and then Rebecca Hall.
"I always thought that Toby Kebbell would be up there, but that's how they had it, and they don't want to lose the money so they're usually quite clever with what they say. I thought it was good to be nominated. But once again, I guess people have underestimated the following that the films that I've done had. Adulthood was top of the box office, you know – maybe it was those people who came out and voted as well."
Despite being surrounded by A-listers such as Brad Pitt, Angelina Jolie, Meryl Streep and Kate Winslet at the event on February 8, the 33-year-old does not seem the type to get star-struck. When asked if he was particularly looking forward to meeting anyone at the awards, he replies: "Not really – they're all just people, really. It was definitely nice seeing people close up. You kind of look at them and think, 'Oh wow, you've got a little crease there or a little wrinkle there and I never noticed that before.'
Eh? Who's got wrinkles? "No, I'm not going to say. But it was good – I loved seeing Penélope Cruz and Angelina Jolie in front of me, like a foot away. Getting congratulated on the stage by Penélope Cruz, and saying congratulations to her... Mickey Rourke was cool as well. He took a few pictures of me, and he was doing a photo shoot and was like 'Hey, come here with me, man.' That was all nice."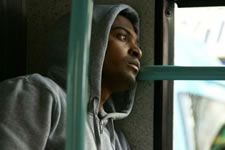 Noel in Adulthood
Although he didn't start acting professionally until the age of 22, Noel says it's what he "always wanted to do for as long as I can remember". One of his biggest breaks came with the 2006 movie
Kidulthood
, a gritty tale about a group of troubled teens growing up in west London.
As well as playing the role of bully Sam, Noel also penned the screenplay. "I was an actor at the time and I wrote it for myself really, for my mates to read, just to see if I could do it," he says. "Then I sent it to one of my friends who said, 'I've got a director mate who might like this' and I was like, 'Sure, whatever, man – send it to him and see what he thinks.' And then they sent it to [Menhaj Huda], who ended up being the director."
With its unsettling storyline involving sex, drugs and street violence, Kidulthood attracted its fair share of controversy. While its detractors claimed that it glamorised violence, others argued that it was a realistic portrayal of inner-city street culture. Noel himself grew up in Ladbroke Grove, west London, and says that while he wasn't directly involved in any street violence, he was aware that it was around. "But if you wanted to stay out of it, you could stay out of it, and that's what I tried to do," he adds.
After Kidulthood, Noel went on to write and star in the sequel Adulthood – and this time he took the helmer's seat as well. Though he wasn't thinking about directing it when he came up with the script, he says that when the chance arose he thought, "Yeah, why not? It's an opportunity and I try not to miss opportunities." He plans to direct more movies in the future: "Now that I've done it, I'd like that career to continue. I just do what comes up in terms of acting if it's good, but I definitely want to do more [directing]. I really enjoyed it and I think hopefully that will provide career longevity."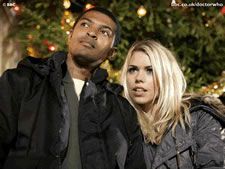 Noel as Mickey Smith alongside Billie Piper's Rose in BBC hit sci-fi Doctor Who
With his broad skills base and charismatic presence, career longevity is not something that's likely to pose a problem for Noel. In addition to his cinematic accomplishments, he's also enjoyed success on the small screen, appearing in shows such as Casualty, Holby City, Auf Wiedersehen, Pet and Doctor Who. The latter, one suspects, may have boosted his chances at the Baftas ("Sure, I think people have seen me in that"), though it also resulted in some strange stories in the press… "There was one talking about some woman who had a Tardis and wanted to take me away in it or some nonsense," says Noel. "And there was a rumour once that I was dating Billie [Piper], which was annoying and funny because it was the most untrue thing ever." (Though before any single EFF readers get their hopes up, he's a married man and has a nine-month-old baby boy.)
Next up, Noel's due to start filming on the Neil Marshall movie Centurion. "It's about the Roman legion and I'm one of the soldiers," he reveals. "And then after that I think they want me to go to America – my agent over there wants me to go for a few weeks."
He's also writing more scripts and has other projects in development with various companies over here. With so much in the pipeline, it seems Noel's rising star is set to soar even higher – and we bet his postman will be delivering a lot more fan mail this time next year.
For full details of who won what at the 2009 BAFTAs, read our news story.
Share this with others on...