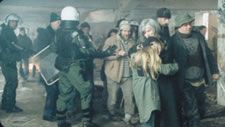 Tiziana Pfiffner and Irène Jacob in Dust of Time
Adam writes... I left you yesterday with high hopes for The Dust Of Time, directed by Theo Angelopoulos and starring Willem Dafoe, which was one of my pre-festival picks.
This is an extremely ambitious piece of cinema with some genuinely inspired touches and some fantastic cinematography, including some lavish scenes shot here in Berlin. But, in truth, the film's dramatic storyline, which divides itself between several generations of a Jewish family who have lived through some of the defining events of the 20th century, didn't quite live up to my expectations.
The synopsis had led me to hope for something more in the way of a historical epic providing a journey through the second half of the 20th century but unfortunately I found the narrative to be deliberately disorientating with a tendency towards style over substance. At 125 mins it was also considerably longer than it needed to be. There were moments when the plight of the characters was genuinely moving, but you never got close enough to them to really empathise and I felt that the director was never especially interested in the story itself.
We began our penultimate day of the Berlinale with another quintessential Berlin experience - a trip to the world-famous Berlin Zoo. The last nine days have been quite a surreal journey and this sprawling place with its fantastic collection of animals and bizarre architecture is certainly no exception.
To fulfil our reviewing commitments your ever-willing reporting duo took upon themselves the task of watching the Pink Panther 2, Steve Martin's second outing as the hapless Inspector Clousseau. It would be fair to say that neither of us went into this expecting it to be our highlight of the festival, but sometimes when your expectations are this low, you can be pleasantly surprised.
This was certainly the case with The Pink Panther 2, which turned out to be surprisingly funny, on its own terms. The plot centres around a team of internationally renowned detectives (headed by Clousseau) tracking down a high-profile thief who is stealing the world's most famous priceless artifacts. This film won't win any awards for comic genius or experimentation (at least I hope not!) but Steve Martin was much better than expected in the title role and the film did have a couple of genuine belly laughs alongside some very passable physical comedy and a decent script. Certainly not the patronising, awful film I had expected.
I've leave Darren to fill you in on the details of the very entertaining press conference which followed…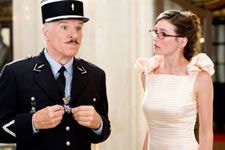 Steve Martin and Emily Mortimer in Pink Panther 2 © 2009 Sony Pictures Releasing
Darren writes:
Unfortunately I wasn't successful in making it into the screening of Hilde last night as it was sold out, in fact every screening between now and when we leave is fully booked. This may well be due to the fact this film is a phenomenal piece of film-making, that is a must-see... or alternatively its the only new film to debut really between now and the close of play hence the frantic ticket sales.
The Pink Panther 2 was the first film I have managed to see in the last two days, which I had absolutely no expectations for but it turned out to be a silly, passable way of spending time, look for my review in the next day or so. More funny and enjoyable than the actual film was the press conference afterwards with Steve Martin, Jean Reno, Aishwarya Rai and Harold Zwart, which included Martin playing the banjo, honestly, it's true!
When asked what his thoughts were on talking on the role from the comedic genius that was Peter Sellers, Martin replied he was naturally concerned as Clouseau is the "comedian's hamlet". On the visual style of the film director Zwart said he wanted to include as many French-inspired nods as possible, such as art noveaux. The beautiful Aishwarya Rai talked a little about her role and involvement and said she found the film to be like a joyride, it was a film that needed no introduction, it was sweet, simple, innocent fun that brings a smile to your face - the perfect feel-good film.
When asked what it was like to work with Martin, Reno replied that he was a "real artist" in many ways, Martin concurred that both shared a good on/off screen rapport. The film hasn't really garnered favourable reviews which Martin responded to by saying, "comedies always incur critical snobbery", even his most famous role The Jerk, was not originally well-received and added that he thought comedies were not a critics medium.
Martin was an absolute riot, I felt I was part of a free stand-up show, give the guy a live audience more often, I say, it was a great way to spend an afternoon. My day ends with a screening of The International starring Clive Owen, the film that kicked off proceedings here in Berlin at the festival, sadly I missed all the press screenings due to a luggage hold-up at the airport when we arrived. I'm quite keen to see it because Tom Twyker is a good director so hopefully it will be entertaining at the very least.
Share this with others on...