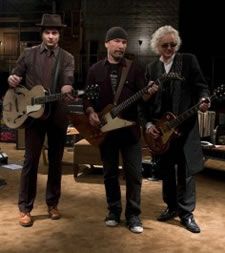 Jack White, The Edge and Jimmy Page in It Might Get Loud
Darren writes: Today's entry contains a slight crossover from last night's festivities. As I mentioned in my last entry both Adam and I managed to secure tickets to the Gala screening of It Might Get Loud, which focuses on the lives and different musical styles of music legends Jimmy Page, The Edge and Jack White, who all share a mutual appreciation of and love for the guitar.
Director Davis Guggenheim weaves these three stories together to explain how each of these rock gods managed to find their own unique sound. The documentary follows each of the protagonists on a trip down memory lane, until they all meet up in a studio to discuss music, jam and embrace their own concepts of rock.
Before the screening started Adam, who's a massive U2 fan, spotted bassist Adam Clayton taking his seat near the front, which was soon followed by an introduction from Guggenheim and the Edge himself. Needless to say Adam was beside himself at this point!
The movie was fantastically well received, audience members nodded along to musical interludes, clapped at funny moments and cheered their appreciation as the credits rolled; it was almost like being at a concert. Before I move on, I must also mention that the screening took place at the Friedrichstadt Palast which was the most amazing cinema I have been to so far. It was wonderful to look at from the outside and even more elegant inside – a venue which certainly rivals the Berlinale Palast.
So what does today bring? Well, I have a screening of Notorious to find out if the movie lives up to all the hype and good reviews it's been getting so far. For those not down with the word on the street, it's a biopic about legendary rapper Notorious B.I.G. After the screening I will be looking to make a dash over to the press conference to catch up with director George Tillman Jr. and stars Angela Bassett, Derek Luke, Jamal Woolard, Anthony Mackie and Biggie's mum Voletta Wallace.
Before the final screening of the evening I decided to head down to the Berlinale Palast to catch the red carpet premiere of Chéri. Now I've been to premieres before - which normally involve hanging around, awaiting the celebrities' arrival - this was no different but even with wind and rain I couldn't resist.
Fighting my way through the crowd to gain a good position, I managed to glimpse Keira Knightley and Tilda Swinton, the latter arriving in a ridiculous looking black Russian hat, but, hey, it was cold! Finally after what seemed like an eternity, stars Rupert Friend (Knightley's other half), Stephen Frears and the belle of the ball, Michelle Pfeiffer, arrived to a rapturous response from a dedicated crowd. I managed to grab a few photos, which you can see but it was a mammoth task given the sheer surge of people when Pfeiffer motioned towards the barricade.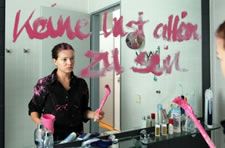 Hannah Herzsprung in Pink
Adam writes…Day Seven began with a screening of Pink, starring German actress Hannah Herzsprung, whose performance in Vier Minuten as a child prodigy-cum-violent inmate of a women's prison, had really impressed me. Ironically, given that we're in Berlin, of all places, this was my first German film of the festival and I'm sorry to say that it did not hold up as a great example of German cinema.
On paper this modern fairytale, about a successful but unstable poet who must choose between the three men who love her had some potential, but in practice this promising scenario was poorly executed with very little depth to any of the characters and nothing to make you want to invest emotionally in them. Like a number of the films I have seen so far at the festival, this film lacked real heart or any kind of emotional payoff.
This afternoon will see a screening of Garapa, the eagerly-anticipated new documentary feature from last year's Golden Bear winner José Padilha. A film tackling the nature and consequences of starvation, the catalogue entry for this one tells us that: "In order to capture their experiences, director José Padilha spent 30 days sharing the lives of three Brazilian families living below the bread line."
This laudable project thoroughly deserves its place at the festival and I sincerely hope that it creates the kind of buzz which will make people much further afield stand up and take notice. It's one thing to have a rich, privileged westerner preach to us about the consequences of food shortages and poverty for the world's poorest, but I have far greater respect for a man like Padilha, who is prepared to spend serious time living with these people in order to explore their world and its consequences, both physical and psychological. Here's hoping this one lives up to my expectations!
Share this with others on...