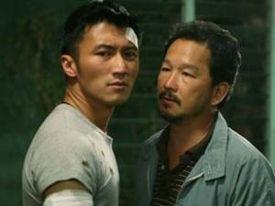 Gripping thriller Beast Stalker
Darren writes... Since our arrival in Berlin, the hectic schedule has meant that neither Adam nor I have had the chance to do a bit of exploring or take in any of the fantastic sights. Neither of us have ever been here before and so we are both eager to see and experience as much as we physically can during the 10 days of the festival. For anybody lucky enough to have had the opportunity to attend any festivals you will know time management is essential as the endless list of potential screenings, press conferences and interviews means that you can find yourself with very little actual downtime.
Today is Saturday and this morning we find ourselves with a relatively quiet schedule, which enables us to head to Mitte to check out the impressive Karl-Liebkneckt Strasse and Unter den Linden, all the way from Alexanderplatz down to the Brandenburg Gate. Head over to our Facebook page to check photos from today as well as our previous daily Berlinale adventures. Eye For Film facebook page.
The first film for me today was The Beast Stalker which proved to be the best I have seen at Berlin so far, a frantic gripping Hong Kong thriller where one traffic accident brings together the lives of a wanted criminal, a cop, a public prosecutor and her daughter in a tale of friendship, loyalty, love and hate.
The remaining part of my afternoon was spent chasing up potential interview opportunities with various public relations folk, which has so far proven surprisingly fruitful as we have managed to secure some potential interviews, although trying to fit them into our diary schedule has posed slight problems. More on this to come in the next day or so...
Adam writes... After our welcome stroll through the impressive streets of central Berlin it was back to business this afternoon as I went to see the latest entry in this year's Berlinale competition section, In The Electric Mist, a James Burke adaptation set deep in the mists of Loiusiana swamp country, from legendary French director Betrand Tavernier,and showcasing the talents of Tommy Lee jones, John Goodman, Peter Sarsgaard and Kelly MacDonald.
Tommy Lee Jones stars in In The Electric Mist
In the film, Tommy Lee Jones plays police detective Dave Robicheaux, on the trail of a misogynistic killer who preys on young women. In his search to reconcile ghosts of the past with the present and the link between the mob and the dead girls Jones is in his element and continues his run of great recent film, including
In the Valley Of Elah
and
No Country For Old Men
. An impressive and arresting piece of cinema, not least because of the director's decision to update the action to contemporary Lousiana, thereby making the location itself (in the aftermath of hurricane Katrina) one of the film's main characters. This was one of the films which I singled out for special mention before the festival and, I'm delighted to say, it didn't disappoint - certainly the best film I have seen so far!
I also tried to attend a screening of Bellamy by another legendary French director, Claude Chabrol, but unforutnately by the time I made to the cinema, the room was already full. The reason for my lateness was, in fact, the press conference for the aforementioned In the Electric Mist, which included director Betrand Tavernier, cinematographer Bruno de Keyser and actor John Goodman, who was on particularly droll form!
It was shame that more of the stellar cast were not present at the conference, but it was nevertheless an inciteful affair. All participants seemed very relaxed and at ease with each other and it sounds like they had a fantastic time making the movie. Tavernier even went so far as to say that: "I never did more than three takes on any scene" which speaks volumes about the filming process. Though Tommy Lee Jones was conspicuous by his absence from the screening, he still cast quite a shadow over proceedings. All three panelists heaped praise on his performance, Tavernier talked about easy it had been to work with an actor of his caliber and Goodman raised a smile by quipping that "I wish I could say I learned from him, but I'm just too concrete-headed to learn anything!".
When asked about the political overtones of his decision to update the novel to contemporary Loiusiana in the aftermath of hurricane Katrina, Tavernier was very clear: "You don't politicise Burke; Burke is polical enough!" As far as Tavernier is concerned, the decision was bourne of necessity and reality. You cannot shoot in contemporary Lousiana without shooting something of Katirina's impact and so it seemed a natural choice to update the events and take the novel in a slightly new direction.
Goodman, a resident of Louisiana, who lives just three hours from the film's location, echoed the director's sentiments by pointing out that "There is no politicising it; Katrina is a fact of life...it's just something we live with." After all, for a film which deals with ghosts of the past, it seems impossible to ignore this malign spectre of the country's recent past, which continues to impact the present day lives of its residents.
Share this with others on...