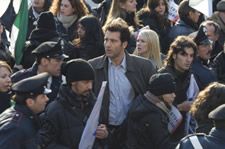 Clive Owen and Naomi Watts in The International
Leaving the arctic shores of dear old Blighty behind us, we are extremely surprised to find that not only are conditions in Berlin surprisingly clement in comparison with the UK's sudden flurry of snow, but there is also a refreshing touch of sun shining encouragingly on the opening day of this, the 59th International Berlin Film Festival.
The festival opened with a Screening of Tom Twyker's The International, starring Clive Owen and Naomi Watts. We were present for the red carpet session outside of the hugely impressive Berlinale Palast, which will see the most prestigious screenings throughout the festival. The red carpet was mobbed by hordes of fans and, sadly, we don't have any star spotting to report yet... although we may have glimpsed Tilda Swinton from a hefty distance.
Adam writes:This will be an exciting week of firsts for me, as not only is it the first time I've set foot in the German capital, but it's also my first international film festival and my first festival experience as an accredited journalist! Cue an extended bout of childlike excitement, a dash of naïve optimism and just a touch of irrepressible pride, particularly when I receive that Holy Grail of journalism, the press pass. Remember the scene from Wayne's World where our heroes receive their backstage passes to the Alice Cooper concert and proceed to use and abuse them, flashing them in the face of every passer by? Obviously your diligent, dedicated (did I mention hard-working) correspondents bear no comparison whatsoever to those two layabouts…
To begin the diary, we thought it would be an idea to give you a list of the films we are most looking forward to, which will presumably make an interesting basis of comparison when we reach the end of the festival and realise that we were totally and utterly mistaken.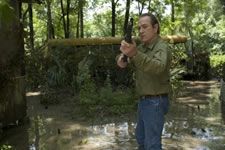 Tommy Lee Jones in In The Electric Mist
Here, in no particular order, is a selection of what I expect to be the festival's big draws. Bertrand Tavernier's
In The Electric Mist
, starring Tommy Lee Jones on the trail of murder and the mob in the deep south;
Rage
, Sally Potter's latest offering which links a murder investigation with the world of New York fashion (not to mention the bizarre prospect of Jude Law in drag!); Theo Angeopoulos's ambitious account of life in the 20th century,
The Dust Of Time
;
Eden Is West
, a modern reworking of Ulysees based around illegal immigration directed by Costa-Gavras; and romance in the 1920s Parisian setting of Stephen Frears'
Chéri
.
Darren writes: Although Adam has never experienced an International film festival before, I was lucky enough to attend Venice in 2005, which was an overwhelming but magical experience. Berlin is no different - it's chaotic and exciting if a little disorganised but each day will bring something fresh new for us to encounter.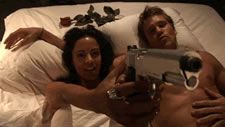 Carolyn Neff and Rusty Joiner in Absolute Evil
The offerings at any festival can be delightful or complete drivel both normally in equal measure, but for me that's always the appeal of attending one. I'm particularly eager to see
High Life
, a comedic caper movie about four hapless criminals attempting to pull off a bank heist (did I also mention they happen to be drug addicts?) A few other festival fancies with appeal are Chin Yan aka
The Beast Stalker
, which is a story of cops, robbers and contract killers done Hong Kong style and
Absolute Evil
starring
Kill Bill
himself David Carradine and directed by noted German horror film-maker Ulli Lommel.
I'm also looking forward to Chéri, starring Michelle Pfeiffer which, according to its synopsis, is a tragic love story and Mammoth, the Hollywood debut of Swedish film-maker Lukas Moodysson starring hot young things Michelle Williams and Gael Garcia Bernal.
Before I sign off I must talk a little about the fabulous cinemas we will be entering in the next 10 days. Steeped in history and designed by architectural geniuses, each and everyone is a worthy snap for the Berlin photo album, I'm awe-inspired... and will be bringing you some photos later in the week.
So here's to Berlin's finest and we're now ready to take on all that the festival can throw at us, armed with our new all-purpose catchphrase: "Ich verstehe nicht. Ich bin Englisch!"
Share this with others on...