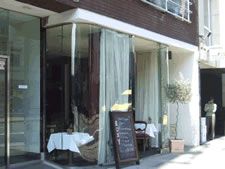 Roxy Bar and Screen
Hurrying towards other attractions on London's South Bank, you could easily walk past it without noticing, and it's not a tourist destination on the scale of Southwark Cathedral or Borough Market, its more prominent neighbours. Nevertheless, Roxy Bar and Screen has gathered a serious following amongst the capital's cinemaphiles, not least because of its neat formula of bar plus restaurant plus cinema, which makes so much sense that it leaves you wondering why there aren't more venues like it already.
The backbone of a four-metre screen, surround sound and high-quality projection is fleshed out with ambitious programming, and in just over two years since it opened the Roxy has already picked up some notable seals of approval. It was declared one of the "Best Five Cinemas in London" by Time Out in 2007. Its co-founder and programmer Philip Wood was then nominated at the British Council Young Screen Entrepreneur Awards 2008, coming away with the runner up prize.
It's been some time since my last visit, but arriving early for my evening appointment with Wood, I have a chance to take in the surroundings again. The narrow front bar is pretty full, the punters looking very much at home on well-worn chairs and sofas, and a peek through the heavy curtains at the end of the bar reveal a decent crowd gathered for The Dark Knight, though it opened at the cinemas some time ago. Food is pulled out of the dumb waiter intermittently and disappears through the curtains. It doesn't look like a rain-soaked Monday night in the middle of a recession.
Wood arrives, and seems happy enough with the evening's turnout. He readily admits that the bar and restaurant help to support the small but ambitious cinema – an important piece of insurance at a time when independent cinemas and multiplexes both are feeling the pressure. His strategy of working with other film organisations is also clearly paying off. There's the partnership with Electric Sheep magazine (Hectic Peelers Film Club), and another with Rotoreliefs (screening new short films), as well as the regular Club Filmosophy, which invites an academic or industry figure to host a Q&A after the screening. "Working with partners helps in terms of reaching out to audiences through different e-lists [and] marketing methods that I have access to. It also helps to widen the programming from just my knowledge base," Wood explains.
In the Roxy's model, diversity is a profitable strategy, rather than an ideal mediated by financial requirements or the clout of the big studios, so it's unhindered in showing low-budget, arthouse, foreign and short films. Wood is clearly proud of having won this kind of freedom. After studying film and working in independent film production for a while, he was dissatisfied. "The commercial pressures often lead to a diluting of the final product. Not that there aren't great films being made in Britain, but I think they're the exception rather than the rule", he says.
He moved into making his own, low-budget films, but that brought different obstacles. As well as being tired of working and living on a shoestring, he was "frustrated with the lack of opportunities to reach an audience, which is kind of why the Roxy idea came about". There's a clear commitment to supporting small-scale and amateur productions, best exemplified by Quick Flick World, a monthly digital short film competition that takes place simultaneously in cities around the world, and is open to all to enter.
Initially there was free admission to all films, possible under the modest terms of a Public Video Screening License. Pretty soon though, it became apparent that the Roxy was more like a cinema than a bar with screenings on the side. They had to bite the bullet and start buying single title licenses at a much heftier sum. The result is that some mainstream releases shown now carry a small cover charge, but this doesn't seem to have affected attendance adversely. Compared to a Leicester Square cinema ticket, a night at the Roxy is still a steal, and encourages moviegoers to take a chance on an unfamiliar film. Wood hopes that as audience trends shift, the Roxy will be in a good position to fill a gap in the market: "If the next ten years of the film industry is going to echo the music industry over the past ten years, then with the rise of digital downloading and copying, DVD sales will decline, the value of DVDs will decline and it seems that cinema ticket prices will rise to compensate."
Wood is confident that the Roxy's format can only help its perception as a 'value-added' venue in contrast with the average cinema. "Without the formality of queuing, tickets, seat numbers… [it's] a much more informal sociable atmosphere – you're more part of an audience, engaging in a group experience much more than you would in a regular cinema. Obviously the odd glass of wine or beer aids this," he admits. At first there were concerns that the casual style would encourage talking over the film, or letting mobile phones ring, but they proved unfounded, and Wood maintains that once people are in the screening room, a kind of tacit consensus kicks in and people are generally respectful towards their neighbours.
With two successful years behind it, the Roxy is looking good for the future. Regarding his ambitions for the venue, Wood cautions that first and foremost there are loans to be paid off, but asked to confirm that we shouldn't expect a Roxy 2 any time soon, he gives a wry smile and won't be held to any such suggestion. I for one hope that Londoners continue to support the Roxy's eclectic and pocket-friendly presentations – in the present gloomy times this is one kind of entertainment we deserve more of.
For screening programmes and more information visit www.roxybarandscreen.com
Share this with others on...