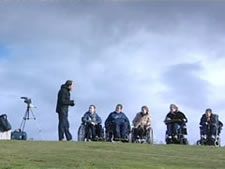 The cast and crew of Special People are baffled by BBFC label
"The actors are more upset than anybody," says director Justin Edgar of the controversy now surrounding his film, Special People, thanks to the way it was treated by the BBFC. "But this has upset a lot of people. Several of the big disability organisations have been up in arms about it. We just can't understand it."
The decision to which he's referring, if you've managed to miss this in the news, is the BBFC's move to label the award-winning film with the precautionary advice "contains disability themes". Although they refused to comment further on the matter, the BBFC did release a statement in which they said: "This is not the first film to have the issue of disability flagged up in the Consumer Advice. Flesh And Blood, classified in 2007, had the phrase 'disability theme' included in the Consumer Advice, and Summer Heights High, classified in 2008, carried the Consumer Advice 'contains moderate references to sex and disability'. In neither case were there any complaints about the use of the term from either the distributor, or the public." Yet Edgar isn't satisfied - why should a thing become acceptable just because they've got away with it in the past? His film has a higher profile, so naturally it's attracted more attention.
Special People follows a neurotic film director who has been sent to teach a group of wheelchair users about film making, only to discover that they have a few ideas of their own. It's an energetic comedy in which disability is just part of the background, the main focus being on the characters. Ironically, the BBFC's full judgement notes that "the potentially offensive term 'spaz' is used on two occasions", this being when the characters are role playing their experiences with other people. Eye For Film could find nobody who found the use of this word offensive within this context, but plenty (including non-disabled people) who thought it offensive to list disability as if it were a disturbing subject. As Ian Macrae, editor of Disability Now magazine, puts it, it's like saying "This film contains black people".
"What we can't understand," says Edgar, "Is why they've singled out our film. They didn't do this to films like My Left Foot, and the only difference we can see is that we had real disabled actors whereas they had able bodied people playing disabled people." After first seeing the advice he immediately phoned the BBFC to discuss it with them, but was unsuccessful. "They never gave us a satisfactory explanation. They basically just started ignoring my emails."
The BBFC have since modified their advice about the film.
Share this with others on...