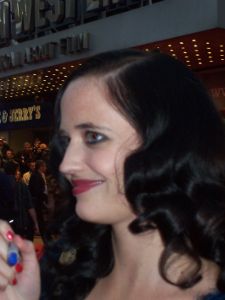 Eva Green at the London Film Festival
"Something so powerful as Film should be celebrated and understood." – Anthony Minghella
These days you can attend a film festival anywhere around the world but, for me, The London Film Festival is one of my favorites and the most important. This is mainly because it's not such a hyped, competitive festival but also because it always has a great eclectic menu of films on offer.
I managed to attend Day Two of this year's festival and I was drawn to two new offerings from the New British cinema section.
The first was Love Live Long, written and directed by Mike Figgis, who was on hand to introduce the film. It is a fatal attraction kind of love story in which a boy meets a girl and then things get dark, very dark. Built around the real events of the Gumball Rally the film was shot in seven days, on a budget of £100,000. Figgis informed us all at the beginning of the screening that he wasn't interested in making a film about the actual Gumball event, what interested him more was a story about the effect of the rally on two people caught up in it. Figgis came up with a love story spanning three countries; London, Istanbul and Bratislava, this one-page treatment focused on a chance sexual encounter between a married rally driver and a self-destructive young woman he meets en-route.
The two actors - Daniel Lapaine and Sophie Winkleman - were cast shortly before filming commenced and they were both individually responsible for fleshing out their respective characters for the rest of the movie. Figgis cut the film in his London studio and also collaborated with his son on both the edit and score. When he was putting the film together Figgis realised he didn't have a real ending for the film, he never intended to make a Love Live Long a Hollywood type film but decided to go out and shoot a Hollywoodised ending. Both actors lived in London so they all went out for a day and shot a closing scene to tie things up nicely.
Mike Figgis is an incredibly interesting film-maker and has done it all, he is an experimentalist in everyway when it comes to film-making whether it is with shots, score, technology and budget he is always looking to evolve and push himself as an artist. Love Live Long is the right type of film to debut at a film festival as it challenges its audience and provides you with talking points well after the final credits have rolled.
Next up in the early evening was Franklyn, which was having its world premiere at the LFF, it was very exciting to know that I was going to attend the first audience screening ever for this film, which isn't released in the UK until January 2009.
Franklyn is the debut British feature from first-time writer/director Gerald McMorrow, backed by legendary producer Jeremy Thomas who is notoriously known for picking first-time director-led projects such as Sexy Beast. Before the screening we were introduced firstly to Thomas, then McMorrow and finally his international cast Ryan Phillippe, Eva Green and Sam Riley. I initially waited for all to arrive outside and managed to snap beautiful French actress Green signing autographs, who looked illuminating. One classic thing about the festival is if you have tickets to public screenings and it just so happens to be the premiere you have to walk down the red carpet, which is the most surreal experience ever – especially as I had to stand and wait for star Sam Riley to have his photo taken by frenzied paparazzi before being able to enter the Odeon.
Franklyn was a hugely enjoyable, refreshing, ambitious London-set film, which I went to see with no expectations. The film has mystique, and is quite complex, with a challenging narrative but what I really got out of the Franklyn screening was discovering a new British talent in Gerald McMorrow as a writer/director with a distinctive vision who is certainly somebody to watch out for in the future.
After seeing the cast and the director came out for a short Q&A where we learned that no matter how many times people ask the cast what the film is about nobody can truly sum it up simply. Ryan Phillippe mentioned he heard it be referred to as "Batman meets Magnolia", Sam Riley called it "a head scratcher that spanned many genres" and Eva Green said it was a film that would appeal to anybody of any age who could relate to any of the characters, the sci-fi action elements or if you were a girl you would like the romanticism.
One audience member asked Phillippe if it was actually him in the mask throughout the film, he replied yes and that it was "hot" and "smelly" but the real low-point was not being able to fully take credit for taking part in the film's fight scenes. Franklyn was the first film Phillippe could finally display the martial arts skills he learnt since the age of eight, the only problem was when he's onscreen he has the mask on all the time and nobody can tell if it's really him or not!
The main draw for all the cast though was McMorrow and his script. It was an original concept of storytelling which was like nothing any of the cast had seen before. For me, Franklyn was a way of taking British cinema in a completely new direction proving that you don't need massive production values to attract star names, only a good concept, a burgeoning talent, pioneered by an experienced producer not afraid to take a chance on material a little more quirky than your average Hollywood or typical British genre film and you have a winner on your hands.
Not a bad first day by any means – and with two more visits planned before the festival comes to a close this year's LFF has got off to a great start.
Share this with others on...