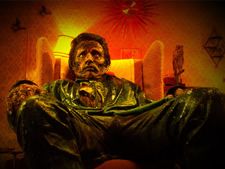 Hugh O'Connor in Flick
New British horror film Flick was premiered at Raindance last Friday. The fun tale of a dead 1950s teddy-boy resurrected from a watery grave to wreak revenge and reclaim his sweetheart is in many ways what this festival is all about. An independent film made with verve and style proving that with a will, a way and a shoe-string budget entertaining movies are alive and kicking outside the multiplexes.
Writer and director David Howard was on hand after the screening with his cast, including Hollywood heavyweight Faye Dunaway. Before he talked about the actual filmmaking he described how he was inspired to come up with the very individual story.
"I had the idea to do something really low budget and quickly, but dark. Then driving home one night I heard Teenager In Love [by Dion and the Belmonts] on the radio and I had the idea of someone driving to kill someone in a record shop. Gradually, that and the other ideas that you come up with get pooled together."
He continued to explain: "We went with the ethos of the Roger Corman B-movies of the Fifties. Get an idea, a great cast and go for it.
In keeping with the style of those earlier films everyone had to work to a stringent budget, which meant wrapping up filming on a very tight schedule. "There was four weeks shooting, which is really brief," said Howard. "Most shoots are six to eight weeks. Then there was post-production. The great thing about filming today is that you can evolve the film later. There was post-production for about 10 to 12 weeks."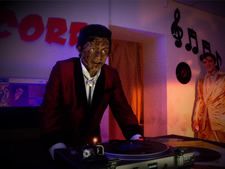 Flick's Johnny really is rotten
It was time well spent, as this enabled Howard to truly develop Flick's very definite visual style. The huge majority of frames and sequences have been digitally enhanced to create a comic book look that pays homage to the trashier but enjoyable flicks and mags of yesteryear. Key to the feel and tone of the film is its rockabilly soundtrack, as played and narrated by a pirate DJ, Bobby Blades. Bobby is played by the idiosyncratic Sheffield-born musician Richard Hawley, who indulges his love of rockabilly music by sometimes gigging with the band The Feral Cats. Hawley was also at the premiere.
"I couldn't think of who would be the right person to do the music," said Howard. "People kept saying 'Elvis Costello' to me, but I hate Elvis Costello! Richard was on the Culture Show and I saw him playing and thought, he has got to do this film!"
It's mostly Rawley's voice we hear, but his one acting scene is shared with none other than Faye Dunaway, who plays a one-armed cop from Memphis. So, in his moment of glory, how did Rawley feel about his character threatening "to twat" the screen legend?
"That was an ad lib!" He admitted. "I'd already agreed to be in the film - then they got some money and some proper actors in. When I learnt that my only part would be with Faye …I nearly pooed myself"
Not that Dunaway seemed fazed at all. She was in great spirits and keen to point out how ,uch she had enjoyed being involved in such a small-scale UK film, mostly shot around the industrial estates of glamorous Port Talbot, in Wales.
"We're just actors working together," she professed. "The British sense of humour is so good. We had a lot of fun." She continued: "This is where it's at at the moment, in independent films. Those interior and stage films are really done in the studio system. I was in the system, but you evolve. You want to make interesting and innovative films and in the independent films that's where it's at. I was very taken by this little piece."
Howard has clearly found a fan in the Hollywood star and is hopeful that others will warm to the fetid slasher pleasures of Flick, both in the short term and long term. "We're negotiating [a distribution deal] at the moment," he reported, "and looking at a release early next year. And hopefully it will be a cult classic in years to come."
(A Rockabilly Radio soundtrack by Richard Hawley and the Feral Cats is out on release now.)
Share this with others on...