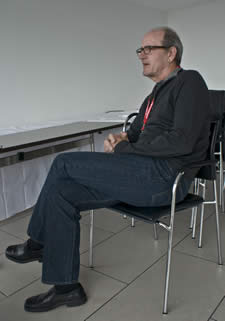 We talk to The Visitor star Richard Jenkins
Saturday is always a busy day at the Edinburgh film festival. We had no fewer than six interviews to co-ordinate on this particular day, plus several photocalls and a red carpet event, so everybody was very busy. What's more, given the previous night's party, some of them were a little the worse for wear. Amber writes...
After one (or possibly two) Budvar too many last night, I'm feeling a tad ropey this morning and somewhat relieved not to be speaking to Perry Benson until midday. When I arrive at his hotel it turns out he isn't on top form either so we agree to reschedule for later in the afternoon.
The unexpected gap in my schedule means I pick a film at random down at the press centre Videoteque - a room with wall-to-wall tellies and DVDs, inhabited by journos trying to catch films they've missed, for the most part. I opt for Vogelfrei, about which I know nothing in advance - which always makes things interesting. In the case of this film, it made them confusing, too.
The story, I work out around halfway through its second segment of four, is about four episodes throughout the life of one man, Teodors. I'm still confused, however, because the film seems to be changing tack so drastically, with each section having a very individual feel and the third section sticking out like a sore thumb. After the film finishes - on a high with a lovely, fluid section about a middle-aged man teaching some yuppies a life lesson - I look it up and all is revealed. It is, in fact, a portmanteau film, with four Latvian directors sharing the honours. This explains a lot but I can't help feeling saddened that it would be an immeasurably better film with a better third segment.
Still, there's never a lot of time to contemplate things in the flow of a festival, so I turn my attention to The Visitor - Tom McCarthy's wonderfully textured follow up to his directorial debut The Station Agent. I'm interviewing lead actor Richard Jenkins, who plays a buttoned up professor who reasseses his life after a chance encounter with a pair of illegal immigrants. His co-star Hiam Abbass - another one of those actress who manages to look effortlessly glamourous - is also in attendance along with McCarthy himself.
Abbass is working double-time at the festival, since her film The Lemon Tree is also screening here, but she says she's been promoting both alternately for months. Talking about what drew her to the project, it is the complexity of the characters and their journeys which seem to have been the decider, although it seems McCarthy had her in mind for the role right from the start.
Jenkins is next up and, since the whole film hinges on him, it's interesting to hear his take on the central character. I ask him whether he thinks he'd like him if they met and he says "It depends on which point in the film", which gives you an idea of the sort of character arc we're dealing with.
Finally I chat to McCarthy himself, who promises it will only be three years before the next film - we can but hope. We'll be bringing you the full interviews in time for the film's release.
Interviews in the bag, I turn my thoughts to Somers Town - an absolute must-see at this year's fest and a strong contender for the Michael Powell Award - and head off to chat to Perry Benson. We talk about the fact that the two films he has at the festival - he is also in full-on horror film Mum And Dad - are wildly different.
He says it's great to be in both films and that making them was a very different experience, since Mum And Dad was very tightly scripted, whereas Somers Town director Shane Meadows takes a much more improvisational approach. He also chats about an upcoming show he's doing for the Beeb, written by Dick Clement and Ian Le Frenais... apparently the American writers' strike is the UK TV audience's gain, since it was something they were able to do because of the hiatus. Expect the full interview soon.
While we're chatting, Piotr Jagiello and his mum pass by. Like Thomas Turgoose, he seems a lovely lad. He chats for a while about the Somers Town screening and says the audience seemed to enjoy it. Apparently, Meadows told them all to vote for the film in the audience award. "I think they all did," says Piotr, smiling. It certainly wouldn't surprise me if they had.
By now it's raining outside so, adding cold to the vestiges of a hangover, I decide to skip the press party in favour of a nice cup of tea and a spot of writing. Eye For Film perhaps... Liver For Boozing, clearly not.
Meanwhile, our photographers have also been run off their feet. Stuart reports...
I was late getting in today. It was the Royal Highland Show so the traffic was awful, plus Princes Street is being dug up to make way for the new tram system, so the bus had to go a really long way round. Still, I successfully made it to the Stone Of Destiny press junket. Outside I got talking to Kate Mara's manager, who said "I could tell you were a photographer the moment I saw you because you dress like a rock star." My colleague Scott raised his eyebrows. Later I had a chat with Billy Boyd, who was interested in my camera as he's thinking of buying one himself.
There was a lot of excitement at the junket, with members of the public queuing up outside. After the photocall the various stars spent some time signing autographs. Robert Carlyle was especially popular.
The highlight of the day for me was getting to photograph Brian Cox. Keira Knightley has that star quality, she's got the Star Wars thing going on, and she looks like a fashion model, but that was nothing compared to being in the same room as Hannibal Lecktor. He's a proper actor.
I only just had time to get to Chris' interview with Better Things director Duane Hopkins and take a few quick pictures before it was time for the red carpet, which was a shame because he seemed a really smart guy and had lots of interesting things to say about his work. Sean Connery was on the red carpet again, and I also photographed Tilda Swinton.
In the evening there was the press party. I went there directly from the red carpet because I was exhausted and I really needed a drink. I hit that free bar like a Glaswegian hitting a free bar. I don't actually remember the end of the party...
Watch this space for more news as it happens.
Share this with others on...