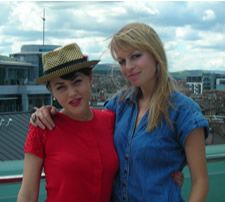 Jaime Winstone and Sian Breckin
After two days of sitting in screening rooms, the Penthouse Suite at the Point Hotel seems almost impossibly bright when I turn up to interview the cast and director of Donkey Punch.
With views out over Edinburgh and the sun shining down, it's a far cry from the last time I met director Olly Blackburn, huddled away from the snow in a Park City bar at Sundance. Although he says he is nervous about the premiere screening, apparently it isn't quite as bad as the nerves he had out in the States, since the film - about a group of holidaying lads and lasses whose partying on a yacht goes south after an accidental death - wears its Britishness on its sleeve. He says he was a bit concerned as to how that would go over with an American audience, but was very pleased by the reaction... and, of course, he's also hoping that a native crowd will warm to it.
I also speak to Robert Boulter, Jay Taylor, Jaime Winstone, Sian Breckin and Nicola Burley - all of whom are incredibly enthusiastic about the film. First I talk to the lads and it's clear they had an absolute blast out in South Africa. With both having previously concentrated on television work, it was a great opportunity to take part in something on a bigger scale.
When I talk to the ladies - all looking impossibly glamorous for the hour of the day - they all make a point of saying how great the director is. It's clear he is fairly hands on and doesn't ask his cast to do anything he wouldn't do himself, including jumping in the ocean. I ask how they feel about their friends and family seeing the full-on sex scene within the film. Jaime says she's "interested" to see what her partner makes of it when he sees it at the premiere - his first viewing of the film - and Nicola says that since her other half is seeing it for the first time too, tonight, she's pretty glad she isn't involved in the below decks stuff.
We'll be bringing you full interviews in the week of release. While I'm at today's interviews I snag a couple of tickets for the after premiere party, which is always nice and means an evening of interest beckons.
First up I head to the premiere of Three Miles North Of Molkom - a documentary capturing the experiences of a disparate group of people who attend the No Mind festival in Sweden. Essentially, lots of sharing, shamanic chilling and tree-hugging, the documentarians have an incredible amount of access and paint a vivid picture of all the people they capture on camera. After the screening, there is a brief Q&A which you can read about here.
I head over the the after party for Molkom, which is well-attended. I fall into conversation with documentary programmer Jenny Leask while I'm there and have a chat about this year's selection - a strong one, as ever. She tells me that the Q&A for War Child the previous night was something else, since rapper and subject of the film Emmanuel Jal turned up unexpectedly. Since this is the story of his amazing life, from poverty in Sudan and being a child soldier to his rise to international star and his efforts to build a school back home, I can only imagine that the question session must have been excellent. Apparently, however, he went a step further and performed some of his music. He was selling his CD at the end of the screening - the proceeds of which are being used to fund that school - and Jenny says there was a huge queue, adding, "I think everyone who was there bought a CD."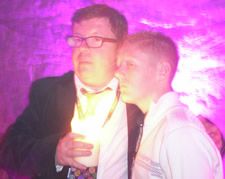 Perry Benson and Thomas Turgoose down in the Caves
A crowd of us then head over to the Donkey Punch and
Complete History Of My Sexual Failures
party. It's in a venue called The Caves, down in the vaults of Edinburgh. Atmospheric in a spooky kind of way. I don't see any of the Donkey Punch cast all night - although I'm assured they are in the building somewhere - and so don't get to find out what the various partners made of the film; but I do run into Olly again, with his other half. He says the screening went really well and that there were some great questions at the Q&A afterwards.
Chris Waitt is also in attendance, with his girlfriend - so no failure there, then - and seems to be having a good time. In fact, there star quotient is high. I more or less bump into Thomas Turgoose and his dad, who like the Donkey Punch partners, has only just seen Somers Town for the first time. He says it brought a lump to his throat and I can't say I'm surprised, since it really is a very moving and sweet coming of age tale. Tomo is in fine form and poses for a piccy or two with co-star Perry Benson - who promises to have a chat with me tomorrow.
I also snatch a quick word with Somers Town director Shane Meadows, who says the film has had a great reception here - and rightly so. Even Danny Huston - who is starring in The Kreutzer Sonata here - wafts through the room briefly. All in all a good, if rather alcohol-soaked night.
Share this with others on...