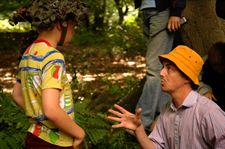 Will Poulter and Garth Jennings on the set of the film
It's a set of circumstances that even Douglas Adams' Infinite Improbability Drive might have had trouble coming up with – that an idea for a film, based loosely around a kid's take on Eighties action movie Rambo: First Blood, would be made with a largely no name cast, sell for a record-breaking £4 million at the Sundance Film Festival and then find itself endorsed by Sly Stallone himself… just after he has dusted off his bandana for one last mission.
Son Of Rambow has certainly had a long gestation period. After conceiving the idea eight years ago, Garth and his producing partner Nick Goldsmith – collectively known as Hammer & Tongs – got sidetracked when the offer for The Hitchhiker's Guide To The Galaxy film came in. And despite a quick turnaround shooting schedule of just eight weeks, after premiering to a flurry of critical approval at Sundance in January 2007, the general release has been a long time coming.
"It's taken me ages again," says director Garth Jennings. "I can't do anything quickly, it drives me mad!"
So was he worried it would never see the light of day?
"Round about June I thought, well that's the end of that, but it was one of those things where everyone was very positive about it and it was going to come out but when we realised we were going to have to go through a whole bunch of legal things – very formal, very amicable, but we realised we'd have to go through them nonetheless - we thought, 'Oh God'.
"You feel like momentum has gone – and I know that that counts for something and maybe we lost something, who knows? But now that it's coming out that all goes away. You just focus on the positives and it's really exciting being on this side of it."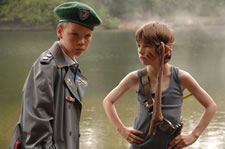 Will Poulter as Lee and Bill Milner as Will in the film
Speaking to either Jennings or Goldsmith, its easy to see where their affection for childhood exuberance comes from. At Sundance they told me they felt a bit guilty for playing hookey and heading off up the mountain to ski rather than watching a lot of films – Son Of Rambow character Lee Carter would be proud. Carter – played by Will Poulter – is the school joker, spending more time in trouble than in the class. When his path crosses that of Will (Bill Milner), who has had a sheltered upbringing in a strictly religious family, an unlikely friendship forms. Carter opens Will's eyes to the world of film – a huge moment for a kid who has never even been allowed to watch telly – and the two of them begin to shoot Son Of Rambow, an adventurous flight of fancy, which will soon see the whole school involved, not to mention a host of French kids on an exchange trip.
But if Goldsmith and Jennings have been looking forward to the film's release, it must be a bit odd for it's stars Will and Bill, given that they are now considerably older than when it was first shot.
"They're like these giant men now," Garth says in his deepest boom, "Actually, they're not at all, they've grown up a bit but they haven't changed much. I was talking to them today and I think it's blown their minds a bit, because they went straight back to school and forgot all about it.
"They never intended to have careers in this thing, they were just having a bit of a laugh and it was amazing. Bill, who plays Will Proudfoot, the sort of lead kid, he said to me today that his school bus turned up and the whole side of the bus was him as Son Of Rambow and he said, 'It's a nightmare'. They're semi-freaked out – it's quite weird for them but I think that, on the whole, they're quite enjoying it."
When he was casting the central roles in the film, Jennings deliberately chose steered clear of stage school kids, hoping for natural performances.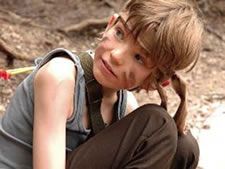 Bill Milner as Will... and now on a bus near you
"They were very confident in their own little way without being too horrible to watch, they were very sweet at the same time," says Jennings. "You don't want some brat on the screen. That was the thing, they were never really worried about what they were going to look like and, to be honest, even though a bit of that has crept in it is a fraction of what you would get in most kids their age. I think they just come from families that have never tolerated that, so they are very down to earth."
And just because the film has been a long time coming, it's reassuring to note that this has just been down to ironing out rights issues, rather than going back to the drawing board.
'[Paramount Vantage] were brilliant, they just sat us down a week afterwards and said, is there anything you'd like to change and I said, 'No'. And they said, 'Well we don't want to change anything either'. All I did was go back in and just twiddle the audio, and it took me an afternoon. So that's it."
The biggest scare Jennings had was when it looked like they might face certificate problems over cigarettes. . .
"What happened was, there was a slight scare at one point, there's a smoking lobby – and I can understand their point – but they said we're going to have to make it an 18 certificate, they really were, and we were like, 'Come off it, Jesus Christ, this is insanity', but we said, 'Look, why don't we all just forget about it and if they come down on us we'll deal with it but let's not worry about it and let's not put any money or time or effort into trying to pre-empt what they might say', and it paid off.
That's not the only thing that paid off for the film-makers, since the trip around the film festivals has helped SoR to gather some good word of mouth.
"I thought it was going to be crap at first," he admits, "but it was one of those weird silver linings, because we ended up taking it round the film festivals instead. It was amazing, because it was like having a proper release, getting all the reaction that you want from your film – because that is the main thing - after all these years making it, does it work? It kept playing in places and getting this wonderful response and it was like a lovely, a blessing in disguise really, to have this little secret life before it comes out. People discovered it for themselves and just had a nice time and it was lovely.
"It's a tiny, funny film with no stars in it… so all this word of mouth is exactly what it needs."
When it comes to creating a buzz, then, there can be few better endorsements than that of Sylvester Stallone himself, who was happy to talk about the film while doing the publicity rounds for his latest flick, Rambo. Jennings, says the whole thing is "unbelievable".
He adds: "Eight years ago we started it and there was no way 'Rambo' was going to do another film at that point. We thought, 'We're on safe ground there, he's never coming back'. It is funny, after all this time there he is again with his exploding stuff and his guns. It's extraordinary.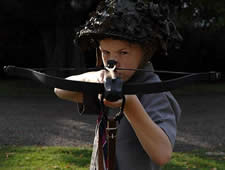 Son of Rambow aims for nostalgia... and is a hit with Sly Stallone
"Sylvester Stallone saw it and I got a call from John Lesher at Paramount saying, 'We've just screened it to him, he went crazy about it and here are his notes'. He read out his feedback and it was just glorious. I think he saw it as affectionate – clearly we liked his film rather than taking the piss out of it, which I never wanted to do. So that was great, getting Stallone's blessing. I'm sure it's the same for anyone who meets a pop star and they wrote the first single they bought, they don't realise the massive meteoric change you had on my whole upbringing and, in this case, career, so it's rather nice really. Thanks, Stallone."
But Goldsmith and Jennings haven't just been jetting across the globe promoting the film, they've also been hard at work down in Tongsville.
"We've been writing a lot," he said "We've written a script for somebody else, which was good fun, cos I haven't done that before and we're working on the next two projects. But it's still very early days on the next two things we'd like to do, but it takes a while to get these things up and running, you have to to talk to people and make sure they don't mind if you do this and that - we've been a bit more thorough this time. It's been exciting and it certainly hasn't been quiet."
He says the new projects are "completely different", adding ruefully: "Which means it will probably be a complete nightmare to get financing again. I think the trick is to do things which look like the last thing you did. If only I'd done a robot thing right after Hitchhikers, it would have been so much easier.
And the partners still haven't had their fill of the improbable.
"Certainly the stories we're working on next are kind of fantastical," he says. "One is animated – which we will do ourselves – and one is a live action extravaganza, I hope. But it's such early days on it all, but that keeps you going.
"I do know there's no point us trying to be Pixar. I love things like Finding Nemo and Toy Story but I think the whole point is to do something different, so whether we use computers to do it or draw it, I don't know yet. It's early days, but I hope it will be something exciting and different – I think something between Pixar and films like Belleville Rendez-Vous there's something interesting to be done."
And unlike some directors, Jennings says it comes down to mindset when you're making a movie, not big bucks.
"Nick and I don't really mind whether things become studio films or not," he says "I think the trick for us is not so much where the money comes from as to how we do it. I think what we'll do is whatever we do we'll make it in the spirit of Son Of Rambow, with a smaller, more commando-like crew – which is what we did on this – and where people have to do the work themselves and there's very little waste and you move very fast.
"I think you can apply small movie restrictions on a big movie and come up with an even bigger movie. It's not so much the money, it's the people – you get all these bloody people and you don't know who half of them are. There's, like, 10 blokes over there reading The Sun – and we're feeding them all every day, what is this? And what you're thinking is, hang on a minute. What you've got to do is make it all streamlined and then you can make it bigger. Use the money – let's put it on the screen instead of giving it to the catering department. And I think that's the basic premise for us workwise to take with us from this.
Looking to the future, he adds: "I hope it doesn't take us as long as this one has done. I will work on my timing."
Wonder what the probability of that is.
Son Of Rambow is out on general release in the UK from April 4 and in the US from May 2. For further details visit the official website or view the trailer here.
Share this with others on...