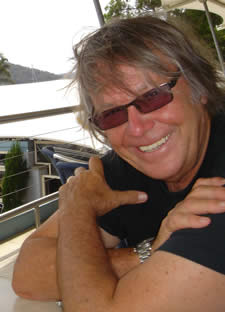 David Denneen
Acknowledged as one of Australia's top commercial directors, David Denneen has worked with a diverse range of people, from Michael Jordan to Michael J Fox. Eye For Film's Darren Amner got an exclusive opportunity to talk with him about his debut feature film, Restraint.
Darren Amner: Restraint is your first foray into feature film. What was it about this particular material that made you want to make it your directorial debut?
David Denneen: The fact that it was a psychological thriller attracted me to the story. Also for practical reasons. It involved three actors and most of the action took place in a mansion which meant I had control and could light it to the standard that I wanted. And the movie did, in fact, win a Gold Award at the Australian Cinematographers' Awards this year.
DA: As a director making the jump from commercials to features, what did you find to be the most challenging aspects when making this film? What were your most memorable experiences and what challenges did you face during production?
DD: The jump was surprisingly easy in a great many ways. I've been shooting high-end commercials for years and honing my craft. However, so many people kept telling me how hard it was going to be mentally, and with the fact that so many shots had to be in the can by the end of each shooting day, this is what I did: stopped drinking, went to the gym every day for six months, and storyboarded the entire movie. The most memorable experience was working with my regular crew and having three actors who were delightful people. Also having with us an acting coach of the calibre of Ivana Chubbuck. The challenge was getting the characters and the pacing of the story to work over 90 minutes.
DA: You're known as a visual artist, with a great eye for style. Please tell me a little about your collaboration with Simon Duggan on this film and what sort of style/look you wanted to create.
DD: I studied art at East Sydney College and worked as an animator and designer before moving onto live action. I guess I am known to "have a good eye". Simon Duggan and I have worked together for many years in commercials and we do seem to have the knack of making the visuals look beautiful. I have to say I don't think I've worked with a better lighting cameraman. He has always told me you can light anything to look good as long as you put the effort into the art direction and design. We wanted to make the lighting moody to enhance the drama of the story. Simon used isolated areas of light that the actors worked within by practical lamps or moon or daylight, whatever worked best for the authenticity of the shot. We also graded the film with a greenish hue and added contrast and de-saturated the colour overall. This ensured that the colour palette was harmonious and gave the film a somewhat black and white feel. Because we were going to shoot 22 set ups in a day, I decided to cut out all the camera moves and shoot low and square on to objects like walls, buildings, etc and let the action take place within the frame.
DA: Please could you explain your individual casting decisions when choosing the actors for the roles of Dale, Ron and Andrew?
DD: Obviously salaries are a consideration when casting a movie, but I have to say that regardless I was very happy with Travis, Stephen and Teresa. Anna Fawcett, my producer and I were doing screen tests in LA and the casting director Heidi Levitts put together some Australian actors for us to test.
Travis Fimmel was one of them, but my initial reaction was he was too good looking. He did, however, give a very different performance from anyone else and this intrigued me. So what happened was his acting coach Ivana Chubbuck and Travis worked together on a screen test, put it down on DVD and called us. Rather reluctantly we went to another meeting. His second screen test was excellent - he bought to life the menacing yet sexy Ron, and we gave him the role on the spot.
Teresa Palmer has a similar story. We were emailed a picture of her while in LA and thought at first she was too young and good looking. We had four castings in Sydney for the role of Dale, and every time I reviewed the tapes, I kept coming back to this beautiful blonde who had a quality of fragility and damage to her. I thought about Hitchcock and the way he used those beautiful blondes like Grace Kelly and I felt that same quality in Teresa: she lights up the screen and the camera loves her.
Stephen Moyer never came to a casting when we were in London, but he sent us screen test he did without my direction off his own back. I thought that showed real enthusiasm for the part. You could tell he had the right qualities to pull off the part of Andrew. He was a complete contrast to Ron plus he was very experienced so I felt very lucky to have him in my first movie.
DA: From reading the press notes, I understand your son Toby edited the film. Please tell us a little about your experiences working with him and putting together the cut for Restraint.
DD: There were a lot of first-timers on this film including my son Toby. But I made another right choice. He worked so hard and never lost his enthusiasm even with the great many edits we did. He has great sensitivity and caring and it shows in his work. I'm not saying there weren't any heated discussions and differences of opinion - that is all part of the creative process.
DA: The film's budget is quite low – however, what translated onto the screen has the feel of a more expensive production in its look, design and the way in which its been shot. Was this something you set out to do in the beginning or was it based on your choices and the people you hired to work with you?
DD: That is exactly what I set out to do. I wanted the film to have an international appeal and not feel like a low budget Australian film. So we asked for a lot of favours from our regular crew and they came to the party. A regular crew that is one of the best Australia has to offer. Bob Hill our production designer did an outstanding job as did our wardrobe stylist Jennifer Sant and makeup artist...
DA: Most of the movie appears to have been shot on location – please tell us about your experiences of shooting in different locations, the choices you made and how it added to the overall creative experience.
DD: As I said above, I wanted this movie to feel different from other Australian films. I wanted it to look like it could have been shot in Europe or New York and I wanted it to have the style of a 1950s Hitchcock movie. The film had to be rich and stylish - that's why we chose the Mansion we shot in at Glebe, it had the green walls in the living room, a chandelier and a old worldly feel to it - perfect for Andrew's abode. For the exteriors we went to Camden and shot in another wonderful heritage home. We did the exteriors there, as well as the kitchen and bathroom scenes. And the bank scenes were done in a town called Gunning.
DA: Restraint to me feels like a three-handed theatre production where you could take this story and turn it into a stage play. Mainly as the story is driven by your three talented leads. Would you say this observation is true? If so, how challenging was it working so closely with the actors?
DD: I think any production with three people that takes place mostly in one confined place and is a psychological thriller could be turned into a stage play. I thoroughly enjoyed working with the actors but personally I like all facets of film making and this includes a larger canvas than a stage. If your movie is centered on just the performances of three characters then it is a big challenge to ensure that there is the depth and journey that each character must make. And when working with first time movie actors when it is your first movie that adds an extra burden.
DA: Andrew's house in the movie looks amazing – was this a soundstage or actual location? Can you tell us about the atmosphere on set, how it was to shoot, what restrictions you faced and how much the house was a character in the film?
DD: We were lucky to find that house in the middle of Sydney. The art direction was there already and this made it much easier for us financially to pull off the standard of art direction that we wanted. The owners were amazing and moved out so this really took some pressure off us. We did have a curfew but as we had to stick to our days, this was a good thing. The house is very much part of the character of the film. It represented everything that Ron wasn't and also showed Dale a new life. Very important to have this contrast to create the tension between Andrew and Ron. That is one of my favourite things about the film, the games they played between each other to win points.
DA: Now you have your first feature under your belt, what is the current status of Restraint and when can we expect it to be released?
DD: The feature film industry is very tough and without known stars, the distributors get cold feet even if they love the film. It doesn't quite fit into the usual genre as well. But our sales agent Peter Elson has a few solid offers in the pipeline and it should be in the next few months we'll get it released.
DA: What is next for you? Do you have any other features lined up to direct?
DD: We have three scripts in development: A Fish Caught In Time, Ezekiel's Chariot and One Sunday. I loved the whole experience of making a movie and can hardly wait to do it again. But I've learnt that patience is key and that you must get the script to a good place before taking the leap.
Did you find this feature interesting? If so, check out our feature on Restraint and our interview with star Travis Fimmel. We'd like to thank producer Anna Fawcett for all her help.
Share this with others on...