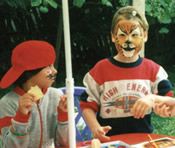 We'll Never Meet Childhood Again
You might think that a documentary which focuses on the HIV and Aids-stricken children who are one of the legacies of Nicole Ceausescu's regime would be a downbeat and gritty offering – but debut documentary-makers Sam Lawlor and Lindsay Pollock have focussed on profound stories of courage amid the chaos.
We'll Never Meet Childhood Again takes a look at some of the 10,000 children infected through contaminated needles and blood during the 1980s, who against the odds, are now embarking on adolescence, thanks in no small part to the band of carers who took them on as families, despite having little or no experience of looking after children.
Given that it was shot in a country where neither director spoke the language, the film's subject at first seems an odd topic to select, but it was an issue that both of them had grown up knowing about, thanks to Lindsay's mum Lois.
"Lindsay's mum has a long history with the Health Aid Romania organisation going back 10 years," says Sam. "Through her work in HIV some people she knew had gone over there and worked with the charity and she went over there initially to give the carers and workers some training and also did some quite important work with the kids.
"For example, she held the workshop when they disclosed the diagnosis to the children when they were about 10 or 11, so she was involved with some of the major social work milestones and had a long-running relationship with the charity.
"She said to Lindsay, why don't you go and do a short promotional film for them as a way of raising funds."
It was this short film that was to spark their interest and lead to Sam and Lindsay returning to Romania two years later, to tell the story of both the children and their carers.
The two intervening years were spent trying to raise enough cash for the project and 27-year-old Sam admits: "We can't really believe that it's got this far. We started by trying to approach people and by asking for funding. At that stage we hadn't made any films before and were in our early twenties and unproven and people were coming back and saying, 'logistically, you don't speak the language, and it's not a particularly commercial project.'
"We quickly realised that we weren't going to successfully get mainstream funding, so we set about spending a year or two working jobs and saving up ourselves to buy the equipment. We managed to raise about four or five thousand pounds over the course of a year or two. I think we spent £3000 on equipment and a couple of thousands to cover our costs."
Although Lindsay had taken a film course, Sam's degree was in politics. But that didn't stop them. The result is a surprisingly mature film, all the more accomplished when you realise that both directors were essentially learning as they went.
"When we were 18 or so we knew we wanted to make films so we had a cheap video camera and did various bits and bobs for an art education charity and small things," says Sam. "When we both graduated we spent a year or so after that working out what we wanted to do. When we had settled on this project, knowing that we weren't going to get any outside funding or could guarantee any life for the film beyond the project… but we just knew we wanted to do it.
"We bought a professional level manual operated camera which we'd never used before we actually got to Romania so we had to teach ourselves manual exposure and light levels etc on the job," says Sam. "We had a vague plan but when we were there it felt quite spur of the moment, in at the deep end."
This being thrust into the middle of things is something the adult carers in the movie will relate to. Before taking on the role of house parents to the children, they had been working in a hospital where they cared as best the could for them. The move to a 'fostering' style environment was largely driven by the desire to do more for the children than could be achieved in clinical surroundings and to give a taste of family life to children who they anticipated did not have long to live.
"People were doing some quite amazing things," says Sam. "Ceausescu had just fallen and they wanted to do something worthwhile, but they didn't really have any model to copy because Ceausescu abolished nursing and social work 20 or 30 years before, so a whole generation of people had come through and they didn't even know what nursing that we take for granted is.
"So they were starting from scratch and it was just an emotional reaction and an impulse to do good. And when they had got involved they just felt they couldn't leave, I think.
"The other thing that struck us was when we were out there we were around 23 years old and most of the parents had taken on, maybe eight children when they were the same age as us, 23 or 24, it's so young to do that."
The carers are surprisingly candid in the documentary, happy to share their experiences, both good and bad. This may be because before the cameras began to roll, Sam and Lindsay spent a month getting to know the families and children. They then briefed a Romanian journalist who conducted the interviews, while they captured it on camera.
Sam says: "We didn't want simultaneous translation, we decided it would be better if she carried out the interviews based on our questions with some leeway. Once we started doing them and getting them translated we were touched by how seriously they had taken it and how much they did say about their experiences, which are very extraordinary.
"The whole issue of HIV infected children is a very raw one even in Romania today. It plays into a lot of things to do with Ceausescu's time and it's a subject that a lot of people in the mainstream are hostile towards. These people are 100 per cent committed and experiencing what the children are in terms of social exclusion."
After the film screens at the Human Rights Watch Festival this week, Sam and Lindsay will give a Q&A, which will also be attended by the head of the Romanian Project for Health Aid UK Anne McNicholas, who Sam says was "instrumental in getting nursing training in the country re-established".
After that the London-based duo hope to spark some interest at other festivals in Europe and they are already working on pre-production for their next documentary.
" It's about a man in his 70s now originally a Hungarian Jew brought up around the time of the Second World War and it's his story from about the age of 12 to 15, when all of his family were taken to Auschwitz.
"He managed to escape from a children's holding camp and spent the next three years on the run in Eastern Europe, assuming false identities, working with Nazis, Russians and, miraculously, managed to avoid the holocaust although most of his family died in it. He's a friend of ours and we are planning to go with him and retrace his route through Eastern Europe.
"We hope to get funding this time," he adds, and on the strength of their excellent debut, we hope so too.
We'll Never Meet Childhood Again screens as part of the Human Rights Watch Film Festival at The Ritzy Cinema, Brixton Oval, at 8.45pm on Saturday and at Gate, Notting Hill Gate at 6.30pm on Wednesday.
Share this with others on...