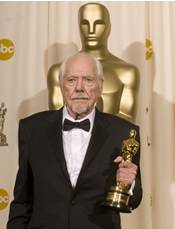 Robert Altman and his Oscar Photos © A.M.P.A.S.
"Retirement? You're talking about death, right?"
A film-maker for 59 of his 81 years, Robert Altman never believed in calling it quits; he was reluctant as ever to bow to the dictates of convention. Altman's was a world in which storytelling took on new forms. He was known for his diverse and sometimes eccentric choices of project, yet his work was marked by a fresh, naturalistic style. Famous for such masterpieces as Nashville and Gosford Park, he was finally recognised with an Academy Honorary Award for lifetime achievement, but cautioned the assembled crowd that he intended to go on making films for a long time to come.
Altman started out, in 1947, as a would-be actor, but could never get the break he needed in Hollywood. After a fleeting appearance in Norman Z MacLeod's The Secret Life Of Walter Mitty, he moved to Kansas to work for a company making documentaries and commercial films, learning on the job. From this inauspicious beginning he went on to write and direct TV episodes for the likes of Alfred Hitchcock, who admired his developing style.
In 1975, Nashville - with its audacious political edge and unconventional structure - broke the mould of popular American film-making and gained him worldwide recognition. Altman demonstrated a remarkable ability to make actors feel comfortable in their roles and to write or inspire dialogue which made viewers feel as if they'd just stumbled in upon a real conversation. He made film-making look effortless, though the sheer scale of his output shows that he was never afraid of hard work.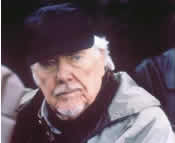 Not long after Nashville, Altman drew critical praise yet again with the strange fantasy that was 3 Women, and just a year later he demonstrated his wit and insight into class distinctions in the Buñuel tribute A Wedding. He was to return to reflect on these themes in his last great film, 2001's Gosford Park, which garned him two Oscar nominations.
In the meantime, he continued his eclectic career with the heavily symbolic post-Apocalypse film Quintet, the fictionalised examination of the Nixon regime Secret Honour, and the poetic Van Gogh biopic Vincent & Theo. Often working as producer as well as director, he created films which were marked by attention to detail and consistency of vision. In later years The Player, Short Cuts and Prêt-à-Porter would make him a Hollywood favourite, with so many great actors anxious to appear in his films that he always had his first choice of cast.
Besides his work in film, Altman was a tireless political agitator, campaigning against George Bush. He served in the US Air Force during World War II and filmed in Vietnam during the war there, though he was never willing to comment on how this affected his beliefs. Later he became involved in campaigns for the legalisation of cannabis. Always active, always full of things to say, he found his home in an industry with gave him the power to tell stories as only he could. "Film-making," he once said, "is a chance to live many lifetimes."
Share this with others on...