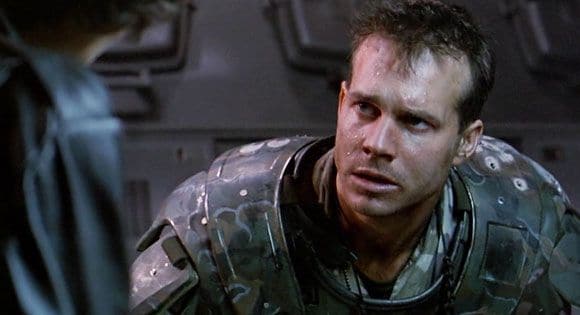 Bill Paxton as Hudson in Aliens
He had his clothes stolen by Arnie in The Terminator, faced off against xenomorphs in Aliens and took an ill fated voyage on the Titanic, but now Bill Paxton is dead, at the age of 61, due to complications following heart surgery.
The Texan actor, who began his screen career in the late Seventies, starred in some of the most fondly remembered films of the age, including Near Dark, Predator 2, True Lies and Apollo 13. He had a recurring role in the Spy Kids films and played Jeff Tracy in Jonathan Frakes' live action version of Thunderbirds. Recently he appeared on the small screen in Agents Of Shield and Training Day. His final film, The Circle, which also features Emma Watson and Tom Hanks, is due for release later this year.
Paxton, who was in the crowd on the day that President Kennedy was assassinated, described his career as being "a bit under the radar" but nevertheless managed to find his place in history. When preparing for Titanic, he accompanied director James Cameron on a trip to see the wreckage of the actual ship. As well as acting in films and TV programmes, he directed two films and appeared in music videos and a video game.
He is survived by wife Louise and two children. "Bill's passion for the arts was felt by all who knew him, and his warmth and tireless energy were undeniable," they said in a statement. Fellow actors were quick to add their tributes, all remembering him fondly. "What a lovely, warm and kind human," said Elijah Wood.
Share this with others on...