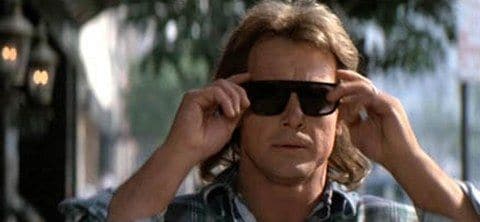 Roddy Piper puts on the damn glasses in They Live
He was here to kick ass and chew bubblegum, but now, after suffering a heart attack, popular wrestler and They Live star "Rowdy" Roddy Piper has died at the age of 61. According to his agent, he survived the initial attack, which happened at his home in Hollywood, but subsequently passed away in his sleep.
Most famous as a wrestler, piper enjoyed a 30 year professional career and continued to make occasional appearances in the ring right up to this year. He made television appearances in Walker, Texas Ranger, Robocop: The Series and the Highlander series, and appeared in films including The Mystical Adventures Of Billy Owens and Pro Wrestlers Vs Zombies, but is best known for his appearance as the beleaguered day labourer turned hero of John Carpenter cult classic They Live, which won him legions of new fans. The film is notable for containing the longest continuous two person fight in cinema history, in which Piper's character attempts to persuade a friend to try on some sunglasses.
Piper, who was treated for Hodgkin's lymphoma in 2007, is survived by his wife Kitty, his daughters Anastacia, Falon and Ariel (who is also an actor), his son Colton, and one grandchild.
Share this with others on...