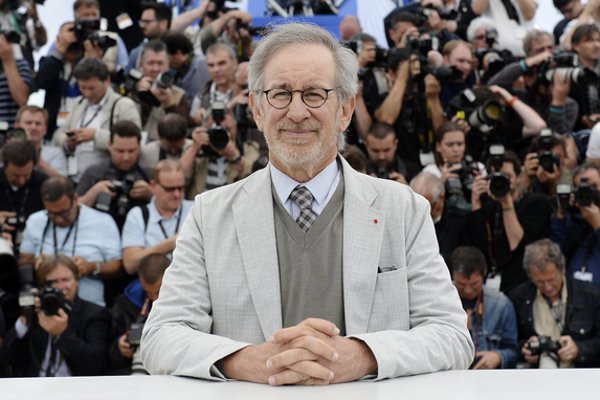 Taking a gung-ho attitude to the task in hand over the next 12 days, Steven Spielberg as head of the Cannes Film Festival's Competition jury relishes turning the tables and sitting in judgement rather than being on the receiving end.
"We're always sitting in personal private judgment on the films we see," he said at a media gathering to introduce his nine-person jury, among them actors Nicole Kidman, Christoph Waltz, Daniel Auteuil and directors Lynne Ramsay and Ang Lee.
"This is not so different from going to see a film and forming an opinion. Everyone sits in judgement on us so now it is our turn," he continued.
Lee and Spielberg were both nominated for Academy Awards in direction last year. Lee won for Life Of Pi but Spielberg lost out for Lincoln. In a spot of mutual backslapping he said: We're pals." Lee responded: "He's my hero."
Spielberg last came to Cannes in 2008, accompanying the out-of-competition world premiere of Indiana Jones And The Kingdom Of The Crystal Skull.
Spielberg leapt at the chance of the jury presidency. "I have been so consistently at work and every time I have been approached I have been busy. This time I suddenly found myself with an open year," he said.
Scots director Lynne Ramsay was in the running for the top prize herself two years ago when We Need To Talk About Kevin was screened, but she lost out to Terrence Malick's The Tree Of Life.
She spoke of her affection for Cannes. "It started things for me when my graduation short film Small Deaths was shown and won a prize. The festival is a true celebration of the art of filmmaking but if you come as a filmmaker you do not have the chance to see a lot of films so I will make up for lost time this year."
As for Nicole Kidman, whose husband Keith Urban is currently judging American Idol and will join her later in the week, she could barely conceal her delight at being in the presence of President Spielberg. "I wanted to be part of this jury as soon as I knew Steven was part of it," she said. "We know each other but I have never had the prospect of spending two whole weeks with him before."
The last word from the jury came from Spielberg. "I have always just accepted the fact that there is great competition throughout the world for the attention of the audience. There are certain films that compete for a specific audience, but it is not fair to compare apples to oranges. There is a difference between a box office film and a film that can change your view of the world."
Whether they will find a title that sets their collective pulses racing in harmony only time will tell. The Palme d'Or and other winners will be announced on Sunday, May 26.
Share this with others on...