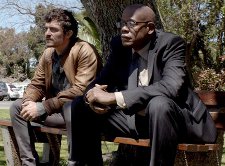 A thriller set in Cape Town starring Forest Whitaker and Orlando Bloom is set to close the 66th edition of Cannes Film Festival (May 15 to 26)
Confusingly titled Zulu (the same as the 1964 historical war film depicting the Battle of Rorke's Drift with Michael Caine) it has been adapted from South African writer Caryl Férey's novel of the same name and unfolds in a post-aparheid South Africa.
Whitaker and Bloom play two police officers investigating the murder of a former rugby captain's daughter.
It is directed by French filmmaker and screenwriter Jérôme Salle who made The Burma Conspiracy, the thriller Anthony Zimmer, and the comic strip extravaganza Largo Winch and currently is working on The Odyssey, a feature about marine conservationist and cineaste Jacques Cousteau.
Whitaker won best actor award at Cannes in 1988 for his performance in Clint Eastwood's Charlie Parker biopic Bird.
Although traditionally the Cannes closing choice can be lightweight, this promises to have more punch.
The Cannes Film Festival opener on May 15 (as already announced) is Baz Luhrmann's The Great Gatsby.
The full list of films in Official Selection will be announced on 18 April - we'll be bringing full coverage.
Share this with others on...