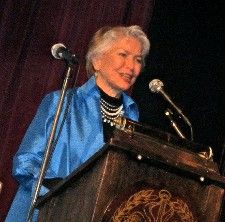 My fellow jurors, Killer Films co-founder Christine Vachon, B52's Fred Schneider, author and reconteur Gay Talese, and I were proud to announce that the First Time Fest Grand Prize of theatrical distribution from Cinema Libre Studio was awarded to an inventive modern-day western with majestic sweep, great acting, and a lot of surprises: Sal, written and directed By Diego Rougier (Chile/Argentina).
The awards night followed a wonderful four days of discoveries, with 12 films in competition for the inaugural competition.
The night's celebration at the Players Club, on Gramercy Park South, New York, was hosted by Academy Award winning actress Ellyn Burstyn, co-president of the Actors Studio. She was the ideal choice.
Two of the best decisions of her life, she said, were taking a chance and saying yes to new filmmakers. She confided in us that she had a project and was looking for a fresh voice in cinema to bring on board as director. She said, she consulted with Francis Ford Coppola and he told her to take a look at Mean Streets, directed by Martin Scorsese in 1973.
After seeing it, that was all she needed - she had found her fresh voice. The film turned out to be Alice Doesn't Live Here Anymore, released in 1974, which won her the Oscar. Her second best choice was saying yes to another new filmmaker named Darren Aronofsky, and she ended up starring in Requiem For A Dream, in 2000, and subsequently in The Fountain (2006).
Ellyn Burstyn presented the award to the Argentinian director and the film's star and executive producer Javiera Contador.
From the stage, co-founders Johanna Bennett, and Mandy Ward along with director of programming David Schwartz showed their enthusiastic response to the selection. Rougier thanked Chile, where the film was shot at a salt desert known as the driest place in the world.
Martin Scorsese presented the first John Huston Award for Outstanding Achievement in Cinema to Darren Aronofsky and quipped that he found his first film Pi (1998) really disturbing. The grandson of John Huston, Jack was in the audience, representing the family. Anjelica Huston sent her best wishes.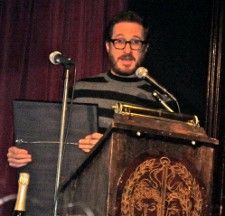 Aronofsky, upon accepting the award, after a video tribute of his movies, wondered out loud what it meant to be called disturbing by Martin Scorsese. He received a framed portrait of John Huston, drawn by Tony Bennett. He asked Tony, who was seated in the front row, if this was a photocopy or an original. After the laughter, he was reassured that it was not a photocopy. Aronofsky said that when you make your first film you don't think about the obstacles you have created for yourself. But then, you get wiser and try not to do that. John Huston, however kept shooting in locations with many obstacles to overcome, like those in The African Queen, "and then he went out shooting".
The celebration continued with a party that lasted on into a beautiful New York night.
Share this with others on...