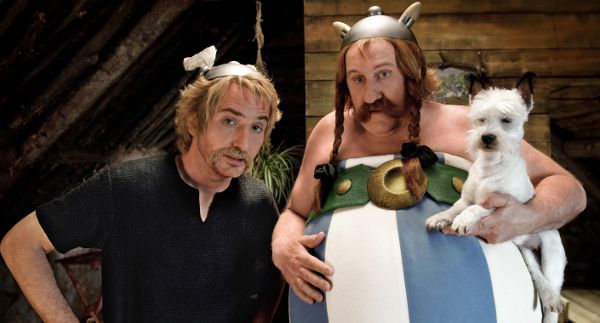 The £50million Astérix and Obélix: God Save Britannia in 3D will open the French Film Festival UK next month with premieres in four cities - London (CinéLumière), Edinburgh (Filmhouse), Glasgow (GFT) and Dundee (DCA) on November 8, 9, 10 and 11 respectively.
Adapted from René Goscinny and Albert Uderzo's original 1966 comic book Astérix in Britain, the film features a stellar cast with Edoard Baer as Astérix, Gérard Depardieu as his sidekick Obélix and Catherine Deneuve as the Queen of England.
The film only opens in France on October 17 and had its avant-première at the British Film Festival in Dinard, the FFF UK's opposite number across the Channel.
The fourth instalment of the franchise follows the glorious legions of Rome led by Julius Caesar as they invade Britain. Astérix and Obélix cross the Channel to help Anticlimax and the Queen of the Britons stand strong against the invading Romans. The year is 50BC and Caesar is hungry for new conquests ... but naturally there is a certain resistance.
Like Braveheart before it, the production was partly filmed in Ireland doubling for Scottish locations.
The Festival organisers have invited guests from the film team – and await confirmations.
The 20th edition of the annual Festival (from November 8 to December 2) which originally began in Scotland's leading cinemas Edinburgh Filmhouse and Glasgow Film Theatre before encompassing many other location across the UK including a strong London, features a bumper programme of retrospectives and tributes and close-ups on aspects of francophone cinema with a special Québec strand.
Festival director and co-founder Richard Mowe said "It's difficult to believe that two decades have flown by – almost in a flash."
Mowe who has received one of France's highest honours - Officier dans l'Ordre des Arts et Lettres from the Ministry of Culture -) for his work, added: "After The Artist and Untouchable, French cinema is on roll. The new Astérix will set us off with a high-profile bang - and the rest of the programme is as vital and varied as ever."
The festival will this year put a major retrospective focus on the work of Belgian filmmaker Chantal Akerman. The season, curated by Marion Schmid, Professor of French Literature and Film at the University of Edinburgh, will see Akerman appear in person in Edinburgh, London and Glasgow to present her latest film Almayer's Folly (La Folie Almayer), adapted from Joseph Conrad's debut novel, a stunning meditation on colonialism, racism and one man's obsessive love for his daughter.
The Panorama section features contemporary dramas with insights into the way we live now and vital global concerns by such directors as Philippe Lioret (All Our Desires), Cédric Kahn (A Better Life) and Moussa Touré (La Pirogue) to a hard-edged thriller from Pierre Jolivet (Armed Hands) and sophisticated comedy from Anne Fontaine (My Worst Nightmare) and Noémie Lvovsky (Camille Rewinds) and childhood nostalgia (War Of The Buttons).
Discovery uncovers new promising talents among them such strong female directors as sisters Delphine and Muriel Coulin (17 Women) and Valérie Donizelli (Declaration Of War) as well as actor turned director Jalil Lespert with his second feature Headwinds. Pierre Schoeller who made Versailles, joins the array with his highly regarded second outing The Minister. There are refreshing debuts from François Pirot with Mobile Home, a road movie, and Sophie Lellouche's Paris-Manhattan, a romantic comedy of charm with more than touch of Woody Allen. Also making a mark are the hit What's In A Name (Mathieu Delaporte, Alexandre de la Patellière) and A World Without Women (Guillaume Brac).
As part of the Festival's wider horizons a special welcome is given for the first time to The Québec Cinema Showcase with a representative selection of features and shorts including Xavier Dolan's Laurence Anyways.
There are two animation delights in Patrice Leconte's witty and ultimately upbeat The Suicide Shop and the improbable friendship between a bear and a mouse Ernest And Celestine. Documentaries comprise Raymond Depardon's evocative essay Journal de France and Paul Lacoste's sumptuous food feast Step Up to the Plate plus a series of Portraits de Paris from different directors
Cinema heritage makes a strong impression with the stunning restoration of Georges Méliès' pioneering A Trip To The Moon from 1902 as well as classic titles from René Clément, Jacques Demy, and Georges Franju.
Exclusive previews of films due to be seen shortly on UK screens have been compiled with distributors Soda (Renoir and Journal de France), Swipe Films (You Will be My Son), Lionsgate (Rebellion), Peccadillo (Our Children ) and StudioCanal (Partners in Crime).
To date confirmed Festival guests include Chantal Akerman (Allmayer's Folly); Pierre Jolivet (Armed Hands); Eric Lange (The Extraordinary Voyage); Sophie Lellouche (Paris-Manhattan); François Pirot, Arthur Dupont, Guillaume Couix (Mobile Home) and Noémie Lovsky (Camille Rewinds).
A photographic odyssey through the two decades of the Festival will be on display at partner hotel Sofitel St James in London and the café-bar of partner venue Edinburgh Filmhouse for the event's duration, an exhibition curated by the festival's film and image crew Otto Koota and Peter Rebac whose documentary on 20 years of French cinema, Vingts ans dèja will be available to sample at select screenings and online.
Musician Jason Kouchak has a new role as the Festival's music director, playing at various gala occasions including a launch in Paris on 17 October hosted at his residence by Sir Peter Ricketts, the British Ambassador to France.
For further information, visit the official site.
Share this with others on...