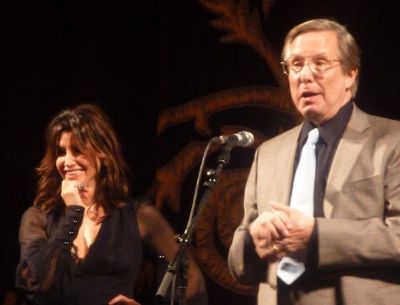 Gina Gershon and William Friedkin introduce Killer Joe
The 66th edition of the Edinburgh Film Festival kicked off last night with a well-attended gala screening of William Friedkin's black comedy thriller Killer Joe.
The film was attended by Friedkin and one of his star's Gina Gershon as well as the great and the good of British cinema, including Jim Broadbent and Brian Cox.
"It's a challenging film," said Friedkin, in his introduction "And I think Chris is a very brave man to present it here at the world's longest running film festival."
He went on to note that Tracy Letts original play, on which Killer Joe is based, had a long-standing connection to the Scots capital, as it received its premiere at the city's Fringe Festival back in 1994, with Michael Shannon in the lead.
He also revealed that Gershon's fiance, former footballer Robert Dekeyser was in the audience and about to see the film for the first time.
He added: "I've warned him not to hit me in the chest because I have a pace-maker. And I'm not kidding."
The evening ended with a black-tie event at the city's National Museum of Scotland - an airy, high-end venue that is a far cry from the more student-orientated rooms at Teviot House, which the festival has been using for the past few years. This switch, plus the reinstatement of the red carpet before the opening film are a statement of intent from the festival and new artistic director Chris Fujiwara, who hope that a renewed focus on both films and the 'festival' aspect of the event will win back audiences and critics who were highly critical of last year's troubled event.
Although the festival has suffered some early setbacks, with both Robert Carlyle and Japanese director Shinya Tsukamoto both now unable to attend, star appearances include in person events with Elliott Gould and Jim Broadbent.
See more pictures from the opening night and read our ongoing coverage.
Share this with others on...