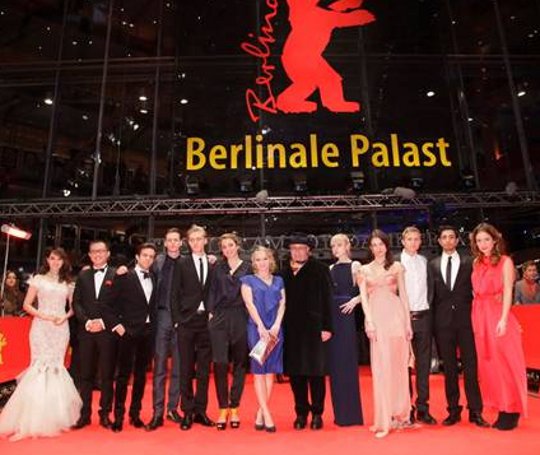 Left to right: Annie Yi (Chinese Ambassador for Shooting Stars) and Richard Shen (Tesiro) Hilmar Gudjónsson (Iceland), Bill Skarsgård (Sweden), Jakub Gierszał (Poland), Adèle Haenel (France), Anna Maria Mühe (Germany), Dieter Kosslick (Berlinale Festival director) Antonia Campbell-Hughes (Ireland), Ana Ularu (Romania), Max Hubacher (Switzerland), Riz Ahmed (UK), Isabella Ragonese (Italy)
Trishna and Four Lions star Riz Ahmed and Belfast-born Antonia Campbell-Hughes (Albert Nobbs, Bright Star) were among the 10 young actors being tipped for top by Europe's Shooting Stars in Berlin this week.
They were welcomed to the Berlin Palast tonight by BAFTA winner John Hurt to receeive their awawrds and celebrate their achievements, following a weekend that saw them meet casting directors and take part in a workshop with international agents.
Stars previously honoured by the international jury include Andrea Riseborough (2011) - appearing at this year's Berlin in Shadow Dancer - Carey Mulligan (2009) and Daniel Craig (2000).
Speaking about 29-year-old Campbell-Hughes, the jury said: "Antonia's acting is seductively minimalistic but demonstrates magnificent charisma at the same time. In The Other Side Of Sleep, her character's inner solitude and sadness are conveyed with haunting, empathetic power. She is a performer of wonderful soul and depth."
Regarding Riz Ahmed, they said: "Watching Ahmed on screen is to be treated to an actor of extraordinary presence and talent. In Trishna, he bridges love and rage, fragility and power, tenderness and brutality. A versatile, elegant, dignified actor with outstanding potential."
Share this with others on...