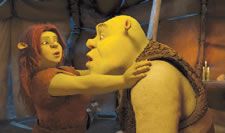 The world premiere of Shrek Forever After has been announced as the opening night film of the Tribeca Film Festival.
The DreamWorks Animation SKG sees Mike Myers, Cameron Diaz, Eddie Murphy and Antonio Banderas reprise their roles in the off-beat fairytale series. The final instalment is the first to be presented in 3D.
In the last in the series, Shrek is duped into signing a pact with Rumpelstiltskin. When Shrek suddenly finds himself in an alternate version of Far Far Away, where Rumpelstiltskin is king and Shrek and Fiona have never met, it's up to the ogre to restore his world and reclaim his one True Love.
Festival co-founder Jane Rosenthal said: "We have always sought to open our Festival with films that are captivating and strike an emotional chord with movie-goers.
"Shrek Forever After combines the very best in storytelling and artistry while showcasing the wonders of innovative 3D filmmaking, [making it] one of the most anticipated new movies of 2010."
DreamWorks Animation CEO Jeffrey Katzenberg added: "DreamWorks Animation is honored to bring the world premiere of Shrek Forever After to New York City for the 2010 Tribeca Film Festival. It is a great privilege and tribute to our entire cast and crew to have been chosen as this year's opening night selection."
Tribeca's 2010 slate will be announced on March 10 and 15 - we'll be bringing you details. Read our coverage from previous editions of the festival,
here
.
Photo: Shrek Forever After ™ & © 2010 DreamWorks Animation LLC. All Rights Reserved.
Share this with others on...