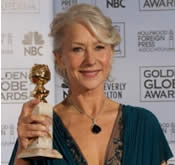 The 61-year-old picked up the awards for a pair of queens - Elizabeth II in The Queen (best drama actress), and Elizabeth I (best TV actress).

Wearing a Donna Karan custom-designed dark blue jersey gown with antique silver sequined tulle, Mirren was also one of the fashion successes of the evening.

She said: "Elizabeth I would have an amazing speech at this moment, wouldn't she?

"And then she would get very humble, and then she'd be teary, and then she'd be powerful. I have nothing to say but thank you very much. I had an incredible role."

The film and TV awards by the Hollywood Foreign Press Association, are usually seen as a reliable indicator of the Oscars a month later, but they are also a major opportunity for the great and the gorgeous to strut their gladrags.

Meryl Streep, who pulled off Best Actress Musical or Comedy Award for her icy portrayal of Miranda Priestly, the head of a fashion magazine in Devil Wears Prada was also suitably well-dressed. She collected her award wearing a blush seersucker chiffon gown by Carolina Herrera.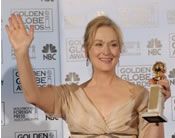 Speaking about the win which marks the sixth Golden Globe of her career, she said: "I think I've worked with everybody in the room.".

In the post-show TV coverage, Streep also made a bid for ground level protest by cinemagoers. Although Devil Wears Prada is seen in theatres everywhere, she says, other movies don't always have such a wide reach.

"If you can't see Little Children or Pan's Labyrinth or The Queen or all these great movies - Volver, Notes On A Scandal, Sherrybaby - you have to go down to your theatre manager and ask him why.

"It's amazing how much you can get if you clearly and authoritatively demand it."

Streep's Prada co-star, Emily Blunt earned a Globe in a separate category for a TV performance in Gideon's Daughter. She wore a body-hugging Herve Legere gown, but her boyfriend, singer Michael Buble, complained that he wasn't getting his fair share of attention.

He said: "Everybody's congratulating her on her two nominations but nobody seems to realize that I was nominated as well: shiniest shoes - Clooney's always my biggest competition!"

Often compared to Devil Wears Prada Ugly Betty was a surprise win in the Best Series (Musical or Comedy) for television, rising above such competition from the US version of The Office and Desperate Housewives. It's star America Ferrera also carried home TV Best Actress (Musical or Comedy).

Ferrera wasn't ugly at the Awards though - far from it - she was striking in a deep indigo drape gown by Brian Reyes.

One of the more predictable successes was Sixties soul singers movie, Dreamgirls (opening in the UK on February 1). It picked up Globes for Best Film (Musical or Comedy), Best Supporting Actress (by former American Idol finalist Jennifer Hudson), and Best Supporting Actor - Eddie Murphy receiving the first major award of his career.

Martin Scorsese won Best Director for The Departed. Although nominated in six categories last night, the Best Director category was the film's only win, leaving stars Leonardo DiCaprio, Jack Nicholson and Mark Wahlberg empty-handed.

Keeping the home flag flying, was Sacha Baron Cohen, who won the Best Actor (Comedy) Globe for Borat.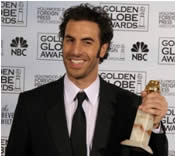 Talking about the extended wrestling scene in the satire Cohen - pictured right, so scrubbed up he was almost unrecognisable from his Kazhakstan alter ego - spoke of the extended naked wrestling scene in his film, he said: "This movie was a life changing experience," he said.

He added that he had seen an ugly side of America that rarely sees the light of day, going on to explain he was referring to: "the anus and testicles of my co-star."

The full list of film awards: Drama: Babel
Musical or Comedy: Dreamgirls
Director: Martin Scorsese - The Departed
Actress (Drama): Helen Mirren - The Queen
Actor (Drama): Forest Whitaker The Last King Of Scotland
Actress (Musical or Comedy): Meryl Streep - The Devil Wears Prada
Actor (Musical or Comedy): Borat: Cultural Learnings Of America For Make Benefit Glorious Nation Of Kazakhstan
Supporting Actress: Jennifer Hudson (Dreamgirls)
Supporting Actor: Eddie Murphy (Dreamgirls)
Foreign Language Film: Letters from Iwo Jima (Clint Eastwood)
Screenplay: Peter Morgan The Queen
Animated Film: Cars
Original Score: The Painted Veil.
Original Song: The Song of the Heart Happy Feet - by Prince.
Cecil B DeMille Award: Warren Beatty.

For a full list of nominations visit our see our news story.

For a full list of the TV winners visit the official site.

Who dressed to impress. Read our verdict here.

All images Golden Globe® Awards 2007 - © MMVII Hollywood Foreign Press Association® "© HFPA" and "64th Golden Globe® Awards;" All rights reserved.

Share this with others on...