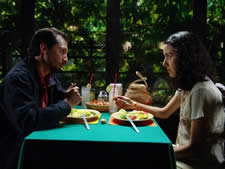 Blue Eyelids is among the films screening
Celebrating the best in Latin American and Spanish film, the 14th Viva Film Festival runs, at the Cornerhouse in Manchester from March 6 to 16, and 20 of the films will also screen at the Irish Film Institute in Dublin from March 20-30 (see www.irishfilm.ie), and will then tour the UK. Click here for a full list of venues and dates.
This year again features a fantastic line up of fiction and documentary films, including Sundance Special Jury Prize winner Blue Eyelids, pictured right. As well as featuring the best new Spanish language films, the programme includes retrospectives, this year including a tribute to director Fernando Fernan Gomez, who died last November, and a retrospective of films produced by Lita Stantic.
There will also be a series of Spanish-themed events, plus guests including Juan Antonio Bayona (The Orphanage) and actors Ines Efron and Martin Piroyanski (XXY)
View previous years coverage of the Viva festival:
Viva Latest Reviews
Viva Features