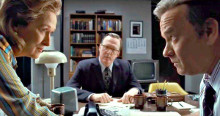 The Post opened the festival
Palm Springs International Festival marks the start of the US film festival calendar year and runs from January 2 to 15. As part of its Awards Buzz section this year it will showcase 45 of the 92 official submissions to the Best Foreign Language Oscar race.
The festival will open with Steven Spielberg's The Post and close with Adam Rifkin's The Last Movie Star.
Several stars will receive awards during the festival, including Holly Hunter, Jessica Chastain and Saoirse Ronan.
View Films by Strand:
View previous years coverage of the Palm Springs International Film Festival festival:
Palm Springs Latest Reviews
Palm Springs International Film Festival Features
Palm Springs International Film Festival News