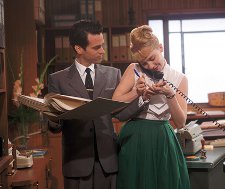 Populaire will open the New York Rendez-vous with French Cinema
The 18th edition of New York's Rendez-Vous with French Cinema, the Film Society of Lincoln Center and Unifrance Films' celebrated annual showcase of the best in contemporary French film screened at The Film Society, the IFC Center and BAMcinématek from February 28 to March 10.
The festival will open with Populaire. Guests this year will include Audrey Tautou, who will present a screening of Therese Desqueyroux.
View previous years coverage of the New York's Rendez-Vous With French Cinema festival:
NY Rendez-vous Latest Reviews
New York's Rendez-Vous With French Cinema Features
Painting a life
Gilles Bourdos on Christa Theret in conversation about Renoir.
Maison d'être
Director François Ozon on In The House, teachers and falling in love.
New York's Rendez-Vous With French Cinema Galleries