Eye For Film >> Movies >> Thérèse Desqueyroux (2012) Film Review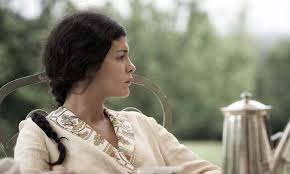 French director Claude Miller's final film before he died, on April 4 2013, from cancer, is a stately and painterly adaptation of François Mauriac's novel. Audrey Tautou has firmly established herself as one of the more spirited actresses of her generation, bringing a boundless pixie-like energy to films such as Amelie and Priceless. But she is also an actress who commands power in stillness, a tactic she employes admirably here. Thérèse would, in fact, be a girl after Amelie's heart, when we meet her, enjoying a long, hot summer of bosom friendship with the slightly younger Anne (Anaïs Demoustier). There's a whisper of sapphic love in the trees, or at least infatuation on the part of Thérèse, but this is 1920s France, where tradition runs deep and family towers over all.
Anne knows Thérèse's destiny is already mapped out, with anticipation that her older pal will marry her older brother Bernard, if not for love, then for the amalgamation of their family's pine woods. Thérèse seems ambivalent, not throwing herself into her role, necessarily, but pensively accepting, perhaps hopeful that such a pairing will give her the ineffable thing that she seeks. "Marriage will save me from the disorder in my head," she asserts, unaware that deep down she craves irregularity almost as much as her next cigarette.

Marriage to Bernard (Gilles Lellouche, as expansive as Tautou is controlled) comes, of course, but what at first seemed like a form of stability soon comes to feel like an elaborate trap, especially as Anne throws herself into a passionate affair of the heart - the only question being, how far is Thérèse prepared to go in order to break free?
Miller and cinematographer Gérard de Battista take their palette from Vermeer, with Thérèse less like a character than a piece of still life at the centre of muted earthy shades. Fire breaks out, whipping through the trees in a frenzy of colour and movement, a state made all the more expressive by the fact that the emotional tumult within Thérèse herself is as bottled up and poisonous as heart medication, only to be let out in drops.
In places, Miller becomes a little too magnetically stuck on Thérèse at the expense of exploring the others in her orbit - particularly Anne, who disappointingly fades out of the plot, and the older generation who are called upon for little more than ongoing disapproval. But his approach to Bernard is interestingly ambivalent, with Lellouche also suggesting there's more going on beneath the surface than his hunting, shooting attitude first implies. Miller's stance may remain resolutely ambiguous but it's intriguing nonetheless.
Reviewed on: 07 Jun 2013
Share this with others on...