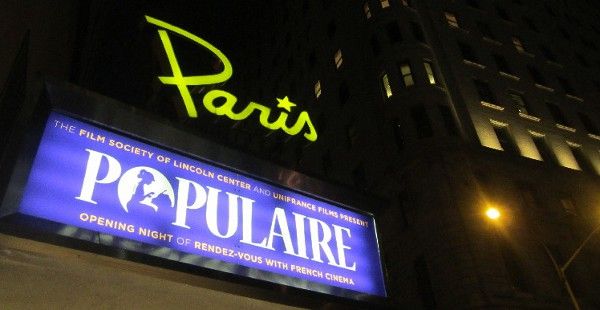 On Thursday, February 28, 2013, the Film Society of Lincoln Center, Unifrance Films and the Weinstein Company presented on the opening night of New York's Rendez-Vous with French Cinema, Régis Roinsard's Populaire, starring Romain Duris, and Deborah François at the beautiful Paris Theatre. Audrey Hepburn, Douglas Sirk, Billy Wilder, Cary Grant, James Stewart, James Cagney and the beginning of the Nouvelle Vague came out on the red carpet as influences.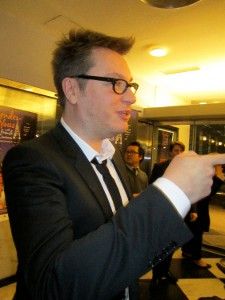 New York is popular with the filmmakers of Populaire from the Plaza Hotel to The Apartment and around the corner to Audrey Tautou's Tiffany's.
On the Red Carpet:
Anne-Katrin Titze: Your film is set in the Fifties, which films from the period inspired you?
Régis Roinsard: A lot of American movies. From Douglas Sirk and Billy Wilder. A few French movies of the Fifties, like Zazie Dans Le Métro by Louis Malle, and just the beginning of the Nouvelle Vague.
AKT: Which Douglas Sirk movies?
RR: My favorite is Imitation of Life.
AKT: And which Billy Wilder?
RR: The Apartment. Is that the title?
AKT: That's the English title, yes.
With the French actresses, one star looms large as inspiration - Audrey Hepburn.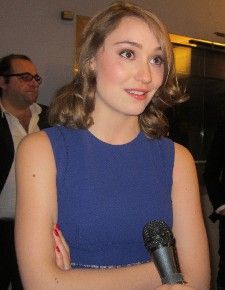 AKT: Do you have a favourite film from the Fifties?
Deborah François: Yes! Roman Holiday.
Populaire lead Romain Duris has a more difficult time deciding and goes in the direction of the great actors that are his favourites.
AKT: What's your favorite film from the fifties?
Romain Duris: Wow. So many.
AKT: Which ones?
RD: From America. Every American comedy. I don't know. So many.
AKT: Any actors you particularly like?
RD: Cary Grant. James Stewart. James Cagney.
AKT: Did you use some of them as a role model?
RD: No, maybe Cary Grant, but he was not like a hero.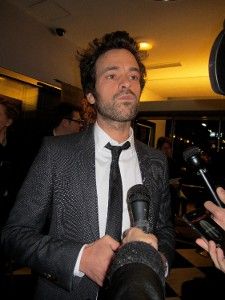 AKT: You are wearing a grey suit now and in Populaire, like Cary Grant In North by Northwest, filmed right across the street from here at the Plaza Hotel.
RD: Okay. Yes, yes.
Later, at the party at the French Cultural Embassy after the movie, I caught up with Romain Duris again.
AKT: So, did you feel a bit like Cary Grant tonight?
RD: I did!
Also on the red carpet at the Paris Theatre was Audrey Tautou, star of Claude Miller's Thérèse Desqueyroux, looking lovely.
AKT: Tonight's film is all about nostalgia. Do you have a favourite movie from the past?
Audrey Tautou: Diamants Sur Canapé!
AKT: Breakfast At Tiffany's - perfect choice for tonight. Tiffany's is right around the corner. Jean-Paul Salomé, the newly appointed President of Unifrance Films introduced the evening to a full house of cinéphiles.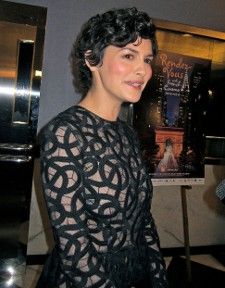 In Populaire, Déborah François plays Rose Pamphyle, a village grocer's daughter, who wants to become a secretary. Louis Échard, an insurance agent played by Romain Duris hires her, because she types really fast with two fingers and he wants her to enter a local contest. Bérénice Bejo, star of last year's Academy Award winning Best Picture The Artist, playing Marie Taylor, childhood love to Louis, and piano teacher to Rose, and Miou-Miou as Madeleine Échard, mother of Louis, round out the cast.
Populaire - which opened the Glasgow Film Festival last month - will be released in the UK by eOne on May 31. It will be released by The Weinstein Company in the US in July 2013.
Share this with others on...