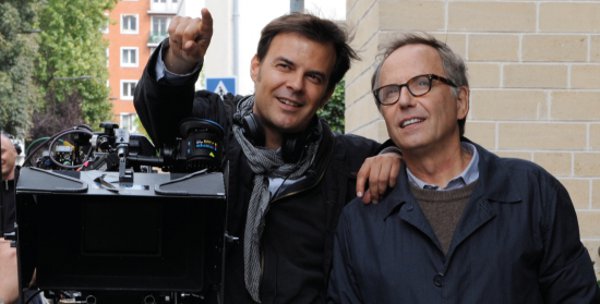 He emerges from the snow flurries and the hubbub of the Paris traffic for our rendez-vous in the Grand Hotel swathed in a designer scarf, wound around his neck several times and finally flung theatrically over his shoulder. In The House (Dans La Maison) director François Ozon, 45, promptly orders a tea with honey for his sore throat and settles back in a capacious settee. He once tried to be an actor but found it did not suit his demons. He retired behind the camera instead.
His latest film combines the more mainstream comedy-drama of his biggest hits, 8 Women and Potiche with the sensibility of his smaller, more cerebral offerings, such as Time To Leave, The Refuge and Swimming Pool, which also dealt with a writer and the person whose life they transform, leading to a blurring of fact and fiction.
In The House stars Fabrice Luchini (of Potiche and The Women On The Sixth Floor) as Germain, a literature teacher at a secondary school where, as he complains to his art-gallery-worker wife Jeanne (Kristin Scott Thomas), the general level of interest of his students extends to mobile phones and pizza. Until, that is, he reads the assignment of a boy, Claude (newcomer Ernst Umhauer), who describes how he manipulated a classmate (Bastien Ughetto) into giving him access to his home, ostensibly to help the other boy with his homework but really so that he can have a good look around in this bourgeois environment and get acquainted with both his parents (Denis Menichot, Emmanuelle Seigner).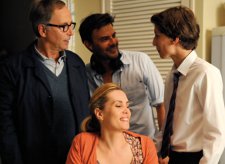 Germain gives Claude some private lessons in narrative construction and storytelling, with the line between Claude's new assignments and reality increasingly unclear until Germain himself starts popping up in Claude's writing.
Ozon mixes humour, drama and a light philosophical exploration of the art of storytelling and the relationships between fiction and real life.
In The House was inspired by the Spanish play The Boy in the Last Row by Juan Mayorga ... how did it come your way and what was the main attraction?
A friend of mine who is an actress invited me to go and see it. I didn't really want to because I am always being asked to see theatre productions. People want to show me their work and that can be a bit tedious. But this time, I was intrigued by the title and I went. I liked it – my friend was right. It was something for me, and I decided to do an adaptation.
I was particularly struck by the teacher-student relationship when I saw the play. We root for both the teacher and the student. Both points of view are presented, by turns. Usually students learn from their teachers, but here, the learning goes both ways. And the back-and-forth between reality and writing lends itself to a playful reflection on storytelling and the imagination. These somewhat theoretical questions are really brought to life in the play. The Germain-Claude relationship represents the essential partnership in any creative endeavour: the editor and the writer, the producer and the director, even the reader and the writer or the audience and the director. When I read the play, I saw a chance to speak indirectly about my work, the cinema, inspiration and its sources, what it is to create, what it is to be an audience.
What was your own relationship like with your teachers?
Well, my parents were both teachers. I was a very bad student at school. I did not like school. But the moment I started to study cinema then that attitude changed. I became a very good student and I realised it was my passion. I had some teachers who were important for me.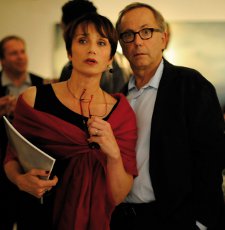 Originally, you thought of setting the film in a British public school with school uniforms and the public school ethos. What prevented you from continuing in that vein?
We don't have uniforms for pupils any more in France. It is true that when I decided to do my adaptation, the first image of all the students was to imagine them in uniforms in the English style. But then I realised that for me to do the film in English with English actors would be too much of a stretch for me [Ozon's English is hesitant and accented]. I preferred to stay in France and avoid that hassle. I believe that in England it is the people of the Left who support the wearing of the uniform because it is egalitarian. In France it is the opposite – it is the people on the Right who are very conservative who would like to see a return to uniforms.
How did you go about adapting the play for the screen?
The play is a continuous stream of dialogue. There are no acts, no truly contained scenes. The locations are not specified or differentiated, we're everywhere at once: the classroom, the art gallery, the house, and the park. My first job was to create a space-time structure, organise the story in terms of time and location.
I eliminated and simplified a lot of things. In the play, young Rapha was a very good philosophy student, as opposed to Claude, who is good in math. The youngsters' dialogue was too sophisticated for the reality I wanted to illustrate, too theatrical, and too removed. And a lot of theories were developed in the play about the act of creation. I retained only what touched me personally and worked directly with the story.
Can the film be taken as a self-portrait?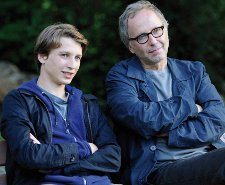 No, but I do relate to the relationship Claude has with Germain. The teachers who meant the most to me were those with whom I experienced a genuine exchange, with whom I didn't feel completely subservient. I experienced this late in my education, when, as I mentioned, I already knew I wanted to be a filmmaker, with professors like Joseph Morder, Eric Rohmer and Jean Douchet. They nourished me, encouraged me and confirmed some of my instincts, sometimes in spite of themselves. With my parents being teachers, I've seen it all first-hand since childhood. I know what a drag it is to grade papers on the weekend, I know about pet students and tensions with administrators... I had a good handle on the subject. I knew how to approach the things teachers go through: the battles, the burnout, and the ridiculous constraints of the education system to which they are often subjected.
You have remarked before that what you experience when you direct actresses is something like falling in love. As an openly gay director does the same thing ever happens with your male performers?
Not often. With Melvil Poupaud [who played a photographer dying of cancer in Time To Leave], I felt like he was an actress. He was very easy to work with, as was Michael Fassbender [in Angel]. They had no problem being directed by a man. But many men have that problem. They can't accept their feminine side. It becomes this big fight, and sometimes it's boring — I want to work, not fight. Luchini simply was a joy to direct but too often he has not been directed enough and has been allowed to run away.
And Kristin Scott Thomas?
We'd been flirting with each other for a while. I think she had a lot of fun with the role. She's a very Anglo-Saxon actress. She can speak French with no accent, but I encouraged her to keep it. I like her little errors in French, they're charming. It was a breeze working with her, the same pleasure I had working with Charlotte Rampling. Indeed, they often have the same intonations. And the couple she forms with Fabrice works very well. We believe in their intellectual connection, they have chemistry, and their little expressions of affection are very natural, reminding us of Woody Allen and Diane Keaton. I was so pleased, because they got to know each other on the shoot and immediately enjoyed acting together. Like Fabrice, Kristin has done a lot of theatre, which meant they understood each other.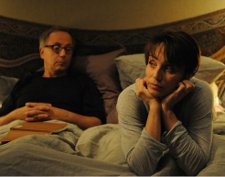 You seem to prefer to remain working in Europe, particularly France. Would you consider locating elsewhere?
I don't want to make English or French films exclusively. I just follow my instincts. I have a French point of view, and I don't want to work with a studio. I want to have my freedom to do exactly what I want. I think when you go to America you could lose your soul because you have to work in the American way, which is so different from the European way of making movies. When you have the freedom to do exactly what you want, why would you move to America to be totally controlled and to have to work with people that maybe you don't respect and who are difficult to work with? I would not have final cut in Hollywood. In France, a director must have final cut. It's the law.
In the House is released in the UK on March 29. It will be out on limited release in the US from April 29.

Richard interviewed François Ozon at the Unifrance Rendez-vous with French Cinema in Paris in January.
Share this with others on...