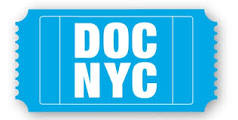 View other DOC NYC Films by strand: American Perspectives, Behind The Scenes, Centerstage, Docs - Redux, Fight the Power, In The System, Jock Docs, Metropolis, Modern Family, Photography On Film, Portraits, Science Non-Fiction, Short List, Sonic Cinema, Special Events, True Love, Viewfinders, Wild Life
Afterward
(Country: US; Year: 2018; Director: Ofra Bloch)
Disturbed by the resurgence of fascism and anti-Semitism around the world, a psychoanalyst based in New York travels to Germany, Israel, and Palestine to confront her own deep-seated feelings about Germans and Palestinians, and the tensions between the Holocaust and the Nakba.
Brave Girls
(Country: US, India; Year: 2018; Director: Yashaswi Desai, Ellie Walton)
Three young Indian women in a conservative Muslim town seek to change their futures through education and self-determination, resisting their families' desires for them to prioritise becoming wives and mothers.
Exit
(Country: Norway, Germany, Sweden; Year: 2018; Director: Karen Winther)
What makes someone join neo-Nazis, Jihadists or other hate groups? And what makes them decide to leave? This documentary explores the ways people legitimize hatred and the threats they face when they attempt to leave this world behind.
The Interpreters
(Country: US; Year: 2018; Director: Andres Caballero, Sofian Khan)
A documentary looking at the fate of the interpreters who helped US war efforts and found themselves in lasting danger because of it.
New Homeland
(Country: US; Year: 2018; Director: Barbara Kopple)
A documentary about the experiences of five refugee children from war-torn Syria and Iraq whose families have resettled in Canada, as they go to summer camp.
Of Fathers And Sons
(Country: Germany, Syria, Lebanon; Year: 2017; Director: Talal Derki)
The director embeds himself with a radical Islamic family in Syria to ask what the future holds for their kids.
The Other Rio
(Country: Canada; Year: 2017; Director: Émilie B Guérette)
100 families live as squatters in an abandoned government building in the shadow of the 2016 Olympics' Maracanã Stadium, under the rule of local drug dealers, but find their own happiness and harmony.
Takumi, A 60,000 Hour Story On The Survival Of Human Craft
(Country: UK; Year: 2018; Director: Clay Jeter)
Takumi is a Japanese word for artisan, but this term is not thrown around casually. It takes true artisans tens of thousands of hours to master their craft, a staggering investment of time that speaks of a commitment to a way of life. This documentary explores this process.