Michael Moore, Jon Alpert, Morgan Spurlock at the DCTV breaking ground ceremony in New York
Photo: Anne-Katrin Titze
Directors Michael Moore and Morgan Spurlock dug in at the breaking ground ceremony for the new Downtown Community Television Center (DCTV) state-of-the-art cinema for documentaries in New York earlier this week.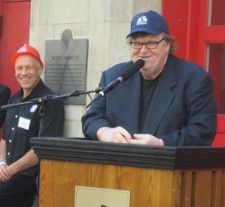 The cinema on Lafayette Street, in Lower Manhattan, which is scheduled to open in 2015, will be the first documentary cinema in the city. The 73-seat, fully-interactive, digital theatre will provide theatrical runs to non-fiction filmmakers for Academy Award qualification.
Some of those shovelling the ceremonial dust from the super-sized kitty litter box for the groundbreaking included New York City Cultural Affairs Commissioner Kate Levin, Manhattan Borough President Scott Stringer, New York City Council Member Margaret Chin and co-founders Jon Alpert and Keiko Tsuno as well as a dynamic crowd of politicians, documentarians, and media.
Moore compared this new stepping stone to the beginning of cinema when Thomas Alva Edison, on April 23, 1896, held his first theatrical exhibition of a motion picture on 34th and Broadway. "The public loves non-fiction", he said and hopes that this "home for non-fiction" will be the first of many, and not remain a "weird cousin".
"Jon will be the Johnny Appleseed," he said of Jon Alpert, without whom the project never would have happened. The French Renaissance–style firehouse on Lafayette Street was built in 1896, a coincidence, which will hopefully work as a good-luck charm for the project.
Jon Alpert and Keiko Tsuno founded DCTV in 1972, a leading documentary film education and production centre in the US, providing resources and equipment for filmmakers and students. The two-time Academy Award nominated team of Alpert and Matthew O'Neill co-directed the 2013 Oscar-nominated Redemption and China's Unnatural Disaster: The Tears of Sichuan Province in 2009.
"Innovative cultural institutions like DCTV are an enormous part of what makes New York City a great place to live, work and visit," said Mayor Michael Bloomberg in a statement. "This new space will be another gem on our landscape of places where creative people can thrive and contribute to New York City's unique cultural landscape."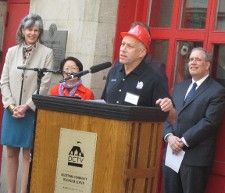 "At a time when documentary film-making is flourishing as never before, I am pleased to salute the new documentary-only theatre that DCTV is opening here in New York City," said Stringer.
"This theatre, which will be the first of its kind in the United States, offers an exciting new venue for an art form that has increasingly come to play a major role - not only in the world of film, but in the discussion and exploration of public issues that affect millions of people around the world. I was proud to offer support to this worthy project and I know it will provide an important forum in our city for years to come."
"For more than 40 years, DCTV has helped New Yorkers shape and share their stories through an unwavering commitment to documentary filmmaking," said Levin. "The city is thrilled to join the public-private partnership that will transform space in this extraordinary landmark into a state-of-the-art cinema to serve professional filmmakers, talented students and countless audiences from across the five boroughs and beyond."
Michael Moore commented how he was inspired by Morgan Spurlock's 2004 Super Size Me film. "In Michigan, I looked like Twiggy."
Share this with others on...