Captain Øyvin Lauten preparing the Kon-Tiki raft for boarding
Photo: Anne-Katrin Titze
Kon-Tiki (2012), directed by Joachim Rønning and Espen Sandberg with beautiful cinematography by Geir Hartly Andreassen was shot in two different languages. The Norwegian version was nominated for an Academy Award as Best Foreign Language Film this year. The Weinstein Company will release it in English at the Paris Theatre in New York on April 26. It will be released in the UK on December 19, 2014.
On board the raft he helped build, docked at the North Cove Marina on the city's Hudson River, we got a chance to speak to Captain Øyvin Lauten. He sailed across the Pacific Ocean in 2006 as executive officer with Olav Heyerdahl, grandson of Thor Heyerdahl, and a crew of four like the gods before them.
In 1947, Norwegian scientist Thor Heyerdahl went on the adventure of a lifetime. Puzzled by ancient sculptures, statues and images of pineapples, he came up with the explanation that Polynesia was originally settled by Peruvians, who must have sailed west across the Pacific. To prove his theory, he and his crew built a raft, based on pre-Columbian drawings, using only old-fashioned materials: Nine balsa wood logs, tied together with hemp rope became the Kon-Tiki, named after the sun god for good luck. The raft on view at Battery Park, is not a film model, but the replica of Thor Heyerdahl's vessel, built from Ecuadorian balsa, which took the same 4,300 mile journey from Callao, Peru to Polynesia in 2006 and was used in the 2012 Kon-Tiki feature.
Anne-Katrin Titze: Did you encounter big waves on your historic journey?
Captain Øyvin Lauten: I was very surprised, six or seven meter high waves. Very good floating. It's very flexible. No hurricanes at all.
AKT: What time of year did you leave on your journey?
OL: The same [as Thor Heyerdahl in 1947], April 27. Very stable weather conditions between Peru and Polynesia.
AKT: And now you brought the raft you used here to Battery Park?
OL: Yes.
AKT: On the ocean?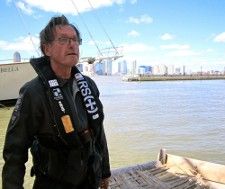 OL: No, no, no! Not sailing.
AKT: Have you been working with the film crew?
OL: No, I'm the builder of the raft. The logs are from our raft from 2006. These logs were sailing across the Pacific. We made it the same size as Kon-Tiki. We got a bigger rig, more sails, a bigger hut. The same journey, but longer.
AKT: You took the same journey, 101 days and further?
OL: Yes, yes.
AKT: In the hut, I found a number of books, among them an edition of Robin Hood. Did you read those?
OL: (laughs) No, not really.
AKT: How many people were on the raft?
OL: Six people, like Kon-Tiki. We were leaving the same day, built it in the same place, went to the same place Kon-Tiki went, but we were sailing around the islands. There are many islands there, you know, it's an atoll.
AKT: Did you have drinks on your raft?
OL: (Half jokingly) Two glasses of red wine - on Saturdays.
AKT: What did you think of the film? Did it capture your journey?
OL: I think it's a very good film. I've seen it two times. The first time I was very nervous because this raft means a lot to me. Some things I was missing and some things I liked very much. The second time was more relaxed.
In the film, a parrot and a crab join the six human passengers on board the raft.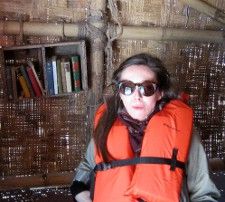 AKT: Did you have a bird with you on your trip?
OL: No, we didn't.
AKT: And a crab?
OL: Yeah, we got crabs! Several! The fish were coming up to us. Hanging on under the raft.
AKT: How did you cook?
OL: We got a gas stove. We were making fresh bread in it.
AKT: You had flour and water? You boiled the water?
OL: Yes. There was some seawater and some fresh water.
AKT: The seawater didn't bother you at all?
OL: No, no, because you got to have salt in your food. Instead of pouring salt we used the seawater.
The famous raft is docked at Battery Park City, where it will remain until Monday, April 22. It will be open for public viewing at the North Cove Marina (South End Avenue and Liberty Street) from 10am to 5pm daily, weather permitting.
Share this with others on...