The third annual DOC NYC running from November 8-15, will showcase 115 films and events, including screenings of 61 feature-length films, 32 shorts, and 22 doc-related panel discussions and masterclasses.
This year the festival will partner with Echelon Donates for City Harvest Food Drive to benefit the neediest victims of superstorm Sandy.
Here are five highlights from this year's compelling DOC NYC with three films from the Viewfinders Competition, a Sonic Cinema, and one of 10 films selected by DOC NYC programmers as ones to watch this awards season:
Shepard & Dark
When Johnny Dark and Sam Shepard met in New York in 1963, they began talking "as sons," right from the start. Shepard, who calls himself "rootless essentially," and has "done everything not to become my father," keeps writing about his father "endlessly."
The two men wrote letters for more than 40 years. "We complement each other," says Dark, who works behind the deli counter of a supermarket in Deming, New Mexico. "Self-contained - it's not a lifestyle, it's who he is," says Shepard, Pulitzer Prize winning playwright and Academy Award nominated actor, about his friend.
Why are these two men friends? What does friendship mean? Why do we have this illusion that we can change ourselves?
In Treva Wurmfeld's well-structured documentary, a complicated relationship is exposed through the juxtapositions of what is seen and heard, remembered and not remembered.
9:30 PM, Sat. Nov. 10, 2012 - IFC Center 2:00 PM, Mon. Nov. 12, 2012 - IFC Center; Scheduled to appear: Director Treva Wurmfeld, Johnny Dark & Kristy Dark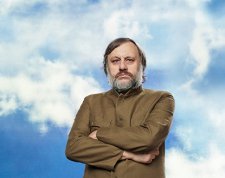 The Pervert's Guide To Ideology
Philosopher Slavoj Žižek's musings on our enjoyment of ideology, and the fact that stepping out of it hurts, are a great starting point for Sophie Fiennes' supreme documentary with the Slovenian Lacanian.
How much freedom hurts is illustrated with clips from The Sound Of Music with Žižek, dressed up as a priest, explaining the difference between enjoyment and pleasure.
Scenes from Zabriskie Point, Jaws, Triumph Of The Will, I Am Legend, and Taxi Driver, among others, help explain fears, history, capitalism, fantasy, military interventions, and many a fact you never knew you really wanted to know, without ever lacking an inspired sense of humor.
From Coca Cola as the perfect commodity, full of metaphysical reality ("The real thing!"), to the Kinder Surprise chocolate eggs with the toy inside (an excessive object with the cause of desire stuck between the two), Fiennes and Žižek do their best to make theoretical concepts understandable.
2:00 PM, Sun. Nov. 11, 2012 - SVA Theater; Scheduled to appear: Sophie Fiennes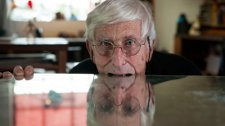 Far Out Isn't Far Enough: The Tomi Ungerer Story
Tomi Ungerer, the most famous children's book author in America, once upon a time, has clear ideas what children need. If you want to give them an identity, "children should be traumatised," he once said at a congress of psychiatrists.
"Once you have fear, you have to discover courage to survive."
Maurice Sendak, who admits that his Where The Wild Things Are, would not have been possible without Ungerer and that he "learned to be braver than he was from Tomi," explains, what they were, and are up against. He says: "It really was like a conspiracy against children, which persists - the assumption that children are innocent, vacant, and mindless - why give them anything?"
If you have never heard of Ungerer, looked at his children's books, seen his anti-Vietnam War posters, or glimpsed his erotica, this documentary, lovingly directed by Brad Bernstein, will be the perfect introduction to a seemingly fearless man, who is arrested every night in his dreams.
1:45 PM, Sat. Nov. 10, 2012 - SVA Theater 11:30 AM, Tue. Nov. 13, 2012 - IFC Center; Scheduled to appear: Director Brad Bernstein (first screening only)
SONIC CINEMA one of seven films exploring a wide range of music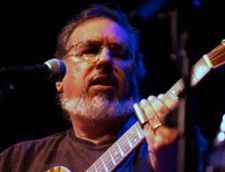 David Bromberg: Unsung Treasure
David Bromberg, the unsung treasure, explains his road to success: "I understood the idea of making the song easier to sing for the singer."
Director Beth Toni Kruvant presents Bromberg's long journey from Tarrytown, New York, where he "became a magician before he became a musician", according to his brother Charney, to "cultural ambassador" of Wilmington, Delaware, in his quest to help revitalise a struggling city by resurrecting a rundown downtown area. We see the old decaying Queen theatre in total disrepair. The last film that played there in 1959, House on Haunted Hill, starring Vincent Price, was still in the projector.
Along the way, we hear from the many people Bromberg touched, leading up to his farewell tour in 1980, when being on the road swallowed him up. He says: "This was the disintegration of my identity" and why he became a violin maker and merchant, who now has "the largest American violin collection in the world". Blues musician Keb' Mo' talks about what many musicians must have felt encountering Bromberg: "Sometimes in your life there are key days… moments when people cross your path and give you something, give a passable gift to you."
Bromberg, called "a genre bender" by one of his collaborators, comes full circle in this human portrait of a man finding and losing himself, to regaining his identity once again.
4:45 PM, Sun. Nov. 11, 2012 - SVA Theater; Scheduled to appear: Director Beth Toni Kruvant and David Bromberg
SHORT LIST – One of ten films selected by DOC NYC programmers as ones to watch this awards season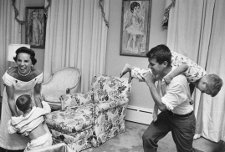 Ethel
Rory Kennedy's revealing and thoughtful documentary on her mother, Ethel, wife of Robert F Kennedy Sr is a declaration of love, rarely seen on film. One of the main themes is not surrendering to catastrophe. The Kennedy family's love of nature is shown through their mother's act of compassion to rescue horses she saw suffering and the many creatures scurrying around their house and lawn as the children were growing up.
As for politics, she also made sure, they knew what their father was up to. We see how close family life and political life were intertwined. Her children speak frankly about their mother's suspect culinary exploits and some of the most intimate observations are made when Rory asks her siblings to recall specific events. At these times, we feel as if we are sitting in Ethel's house, as a member of the family
Ethel goes far beyond and more deeply into the childhood memories of a family, we all thought we knew so well. You can read our full interview with Rory Kennedy here.
6:45 PM, Fri. Nov. 9, 2012 - SVA Theater; Scheduled to appear: Rory Kennedy
Other films showing at DOC NYC include Mea Maxima Culpa: Silence In The House, Searching For Sugar Man, Ping Pong, West Of Memphis, First Position, 5 Broken Cameras, Ai Weiwei: Never Sorry, The Imposter, My Amityville Horror. For full details of the schedule and to book tickets, visit the official site
Share this with others on...