Katharine Hepburn: Dressed for Stage and Screen
Photo: Anne-Katrin Titze
Katharine Hepburn had a keen eye for style, worked closely with her films' costume designers, and knew how to carefully subvert gender coding. Her knowledge of fashion in no way contradicts her desire for comfort and freedom, not only in regards to sartorial expression. And she loved her clothes. That becomes apparent right at the start of the New York exhibition Katharine Hepburn: Dressed for Stage and Screen, where you are greeted by seven beautifully tailored pair of trousers from Hepburn's private collection.
A selection of Hepburn's trousers at the start of the exhibition
Intricate details, such as perfect button holes on the jodhpurs, strategically placed, flowing pleats on pants in just the right shade of red, and signs of wear and repair on all of them, betray the common misconception, that Katharine Hepburn promoted relaxed comfort and did not really care.
It takes a lot of effort to look as if you didn't make any effort, she once said to Greta Garbo, another movie star who managed to overcome Hollywood stereotypes of her time with distinct personal style.
"It's the most outrageous pretense," she admitted. In her autobiography Me: Stories of My Life (Knopf 1991), Hepburn explained some of her early audition outfits and how she dealt with the competition, "all the poor things dressed up fit to kill":
"Lest they think that I was making any effort, I used to get myself up in a sort of slouch costume… an old green tweed coat, I would pin the coat together with a safety pin, throw a sweater over my shoulders, string my hair a bit… very casual for those days. I wanted to look as though it were really nothing to me if I got the part or didn't."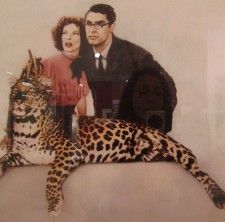 I received a personal tour of the carefully curated exhibit from Jean L. Druesedow, director of the Kent State University Museum of Fashion and Decorative Arts, and she told me about all the delicate underwear and sturdy bags that didn't make it into the New York exhibit.
She is also contributor to the accompanying book Katharine Hepburn Rebel Chic (New York: Skira Rizzoli, 2012) and gives insight into the many fascinating professional collaborations Hepburn had with Hollywood's most important costume designers, and American couturiers for her stage work.
"One does not design for Miss Hepburn, one designs with her," commented Edith Head. Authenticity takes a tremendous amount of work. She was not the first woman in pants. Marlene Dietrich had her own approach, one that highlighted the masquerade and questioned gendered garments from a different angle.
A woman in a tight, knee-length skirt and heels is very limited in her movements. Small steps, don't run. Any man who prefers women in that outfit should try it out himself, Hepburn suggested. The pants are a socio-political statement, true to the Hepburn family legacy.
Hepburn's masculine-looking John Lobb brogues
Both parents were outspoken activists, her father, Dr Thomas N Hepburn, established the New England Social Hygiene Association to educate the public about venereal disease, and her mother, Katharine Martha Houghton, a suffragette, protested in support of free access to birth control for unmarried women, a precursor to planned parenthood, with her little daughter, the future movie star, in tow.
In 1938, Katharine Hepburn was declared box office poison, and one can't help but wonder how much the Hollywood publicity machinery had to do with it. The image of a strong, independent woman, wearing pants, was not something promoted in a country still suffering from high unemployment rates.
The exhibit shows publicity shots and fan magazine covers, that attempted to disguise Hepburn with curlier hair and reshaped mouth to fit a standard mold. In inspired juxtaposition, these examples share a vitrine with Hepburn's masculine-looking John Lobb brogues.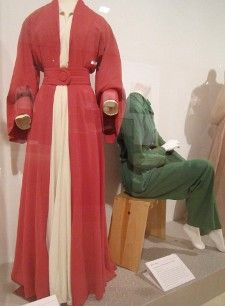 There are revealing treasures in this exhibition, which combines costumes and objects from the Kent State University Museum (in her will, Hepburn stated for her costumes to go to an educational institution) with costume research, sketches and comments from Hepburn's correspondence, scripts and notebooks in the Katharine Hepburn Papers from the New York Public Library for the Performing Arts Billy Rose Theatre collection.
Hepburn's stage makeup box sits next to elaborate lists, the actress made during her research for Shakespeare stage costumes.
She privately wore clothes by Valentina, an important American couturière, who also made her stage dresses. A green raw silk jumpsuit, she wore privately, sits next to the red silk coat dress, the designer made for the original Broadway production of The Philadelphia Story in 1939.
Walter Plunkett, who did eleven movies with the star, designed the breathtaking black silk evening gown from Adam's Rib (1949), that Spencer Tracy has to fasten up for her in a great comic scene.
Howard Greer designed the gowns for Hepburn in Bringing Up Baby (1938), directed by Howard Hawks, in which she co-starred with Cary Grant and Baby, the leopard. Who can forget Hepburn and Grant with their beautifully choreographed torn dress dance through a crowded restaurant or Grant in her feathered dressing gown turning "suddenly gay"?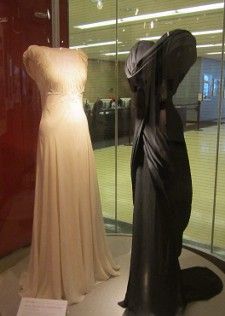 In preparation to play Coco Chanel on Broadway in 1969, the actress met the designer in person in Paris, purchased two Chanel suits to wear on stage, and refused the inauthentic costume copies.
In 1985, Calvin Klein presented her with the Council of Fashion Designers of America lifetime achievement award. She said about her work with Adrian: "I think that Adrian and I had the same sense of smell about what clothes should do and what they should say."
Katharine Hepburn's clothes still speak loud and clear, about style, about knowledge, about history in objects, about subversion, glamour, and complexity.
And those trousers at the entrance? I would love to put one of them on and walk out onto Lincoln Center Plaza. Not a soul would notice that I was wearing a piece of a museum exhibit. I have to get myself some beige cavalry twill.
Katharine Hepburn: Dressed for Stage and Screen can be seen at the New York Public Library for the Performing Arts at Lincoln Center until January 12, 2013.
Share this with others on...