Bruce Greenwood plays Pilot Union representative Charlie Anderson and old friend to Denzel Washington's Captain Whip Whitaker in Robert Zemeckis'
Flight
- which tells the story of a pilot who becomes a national hero after a plane disaster... until the truth about what was in his system at the time is revealed.
Bruce Greenwood and Denzel Washington at the press conference
Photo: Anne-Katrin Titze
After the press screening and conference for Flight, on the morning of the movie's world premiere at the 50th
New York Film Festival
Closing Night Gala, I had a chance to chat with Greenwood, before he had his official Film Society Festival photo taken. Washington and Greenwood had previously worked together on the 2006 thriller
Déjà Vu
.
Greenwood starts out speaking Swiss German to me, with a Zurich accent, and tells me he lived there at age 16 because of his father's work in Switzerland and that he goes back there every year. I understand half of what he says at lightening speed, and am glad when we switch to English.
Miraculously, Greenwood has his own story to tell about surviving a plane crash:
BG: I was in a small light plane crash, a 7135 on floats, and we came in, and crashed and sank and tore the wings off, but the three of us survived, and it was extremely exciting.
Anne-Katrin Titze: How did you get involved in this project?
BG: I read the script and I thought it was wonderful, did a little screen test thing for Bob (Zemeckis) and then I started work on another film and then they called and said, hey, Bob thinks you'd be right for it. So that was that and I was commuting from Oahu, Hawaii. For the first few weeks I was going back and forth.
AKT: You were filming in Hawaii?
BG: I was filming a television series called The River. I finished that. Then finished another Star Trek. I just finished a small movie in Alaska and am about to leave to go to Johannesburg for the BBC, a project with Bill Hurt.
AKT: What is this about?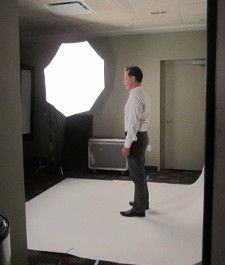 BG: Another flight thing, it's called Final Flight. It's about the inquest after the Challenger disaster.
AKT: You are not flying today, are you? Today is October 14, the day of the plane crash in the film.
BG: No. I didn't realise.
AKT: Interesting doubling with the premiere. I just spoke to Richard Peña, who wasn't aware of it either and said they selected the film in the middle of the summer. Let's move on to your costumes in the film. Designer Louise Frogley's choices are strong and show what kind of a character Charlie is. That jacket and everything is very decisive.
BG: Now that you mention it. I think so, but I haven't seen the film yet, so I don't know.
AKT: It feels right. Your character Charlie is dependent on the costumes for structure, the clothes that fit so perfectly.
BG: I don't think he is dependent upon them. I think they're an outgrowth of who he is. They represent him.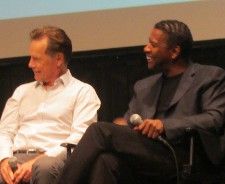 AKT: It is very different from Denzel's character, who falls into sloppiness with his drinking. And you are the counter balance.
BG: Yes, the guy is in control. And then he can't keep control. You see this guy who really wants to keep it together and wants his friend to keep it together. And, he dresses, you know, as tight as he can to reflect his commitment to things going right. And he can't do it. There's a bomb about to go off.
AKT: I think when your character is changing, the audience is reacting strongly, because you have been the anchor for many people.
BG: Yes, yes, he is completely desperate and all his morality and all his ethics go out the window in this last ditch attempt to save not just the union but to save himself. And, you know, that's what people do, they make those hard choices and sometimes they... The whole film is morally ambiguous. We all get a chance to make those ambiguous choices.
Bruce Greenwood, with much sympathy and reflection as the straight guy in all this chaos, pulls the film forward and out of its tailspin.
Flight is released in the US this November 2 and in the UK on February 1 2013.
Share this with others on...