Michael Moore, the host of the tribute said to Richard Peña, 'You don't treat cinema as fast food. You do not treat it as a commodity.'
] Richard Peña's unparalleled leadership from 1988 through 2012 as the selection committee chair of the New York Film Festival and subsequent Film Society of Lincoln Center programme director was honored at a Gala Tribute on the evening of October 10, 2012 by filmmakers and colleagues.
Richard Peña and Michael Moore
In a video tribute that started off the evening, Martin Scorsese spoke of Richard's "spirit of discovery," and Noah Baumbach recalled seeing a "silent Chinese film at Prada," a memorable event Richard made happen, because he was so "invested in people seeing that movie," not only because Baumbach got a free suit. Todd Solondz felt "very lucky to be included" in the marvellous company of New York Film Festival directors, and Olivier Assayas said: "He saved my life… he connected me with a broader audience." Abbas Kiarostami wondered how someone with such a "face of innocence" could hold this position and do what he does. There is "something about his childlike expression," that makes it all work.
"I wish it were already over," Peña told me the morning of his tribute, after a great press conference with Javier Rebollo, a director he never met before and whose film The Dead Man and Being Happy was selected for this year's edition of the festival. As so many times, Peña asked poignant questions, moderated what the audience had to say, and translated, simultaneously, English to Spanish, Spanish to English, composed, alert, curious, with his unique aplomb. "You have to make it look easy," Fred Astaire said, not to Richard Peña, though (as far as I know).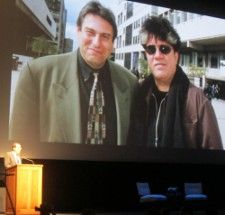 Michael Barker, co-president and co-founder of Sony Pictures Classics, came on stage for the tribute at Alice Tully Hall to recount "the best and the worst opening nights of the New York Film Festival". The worst was in 1982, before Peña's reign, when it was announced that Rainer Werner Fassbinder had died and his opening night film Veronika Voss was screened posthumously. The best, for Barker, was in 1988, Peña's first, Pedro Almodóvar's Women On The Verge Of A Nervous Breakdown. Since then, every festival has been "a baptism, a celebration, and an epiphany".
Peña's daughter Maya took the stage, and commented that she, her brother and sister considered the Festival their "step-sibling," but one that left enough room for filmic family fun, from watching Seven Brides For Seven Brothers when they were little, to a screening of Psycho for her 6th grade birthday party.
Director Michael Moore, the host of the tribute, recalled how Peña would not shy away from picking up discarded popcorn or taking tickets, when needed. "I will out-Shun-Lee you any day," said Moore after several people brought up the Lincoln Center Chinese restaurant as a favourite feeding ground. Selection Committee member Scott Foundas, equated the Shun Lee containers to Hansel and Gretel, just follow them and you will find Richard.
How can you stab a skeleton?
Jason And The Argonauts[/film] (1963) was the first movie that left an impression on him as a boy: "How can you stab a skeleton? That was a big problem for me." At age 12, he saw Erich von Stroheim's silent The Wedding March (1928) at Philharmonic Hall during the third New York Film Festival, with his aunt, and was moved that there was "a community of people" who all enjoyed the same thing at the same time. His "mad Serbian professor of film studies at Harvard" and the Cinémathèque of Rio, which opened up its celluloid arms to the young student from the US on his year abroad, helped make him the fearless supporter of everything that's good in film, wherever it comes from, that he is today.
"You don't treat cinema as fast food. You do not treat it as a commodity," said Moore. From the ambulance for a presumed heart attack in the audience at the Pulp Fiction (1994) opening night, to the mass departure during Miller's Crossing (1990), to the roaring applause and standing ovation for the Dardenne brothers at the screening of The Kid With A Bike last year, Peña has experienced every possible reaction to the films he helped to bring for us to see. The New York Film Festival "shows a curated snapshot, not a panorama," he said, and pointed to the importance of having "a real selection", even if you disagree.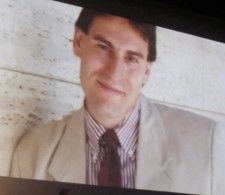 How does Peña see the future of film, Michael Moore wanted to know, with the movie going experience changing, the last 35mm projectors produced, and 2013 marking the year when every major studio release will be digital?
Richard noted, New York is not so much the problem. "The hinterlands is where I'm worried," he said. "I expect more theatres to close." To watch "Joan Of Arc on your wrist watch" is not really watching Joan Of Arc. Still, he is pragmatic, "It's all going to get better, Michael," he joked.
For me, the best snapshot of Peña was given by Kiarostami during the press conference for Like Someone In Love last week, apropos moments of truth:
Abbas Kiarostami recounts Richard Peña's encounter with 50 camels, 'I thought you brought the camels for me'
About 15 years ago, Kiarostami picked up Peña, (who, one could say, introduced Iranian cinema to more people than anyone else) at the airport in Tehran. "I took him to the nicest neighborhoods first," the director recounted, in an attempt to give a worldly impression of his city and counter all the Western prejudices. When they arrived at Kiarostami's house, at the end of a wide cul-de-sac, "there were 50 camels on the road, something that had never happened before. Nor since." And while Kiarostami stared at the spectacle in total disbelief, there was Peña, calm and undisturbed, as if this happened to him all the time in New York. "I thought you brought the camels for me, " quipped Richard.
His distinct trust in the absurd and that it alone can reveal a certain truth will be dearly missed come September 2013.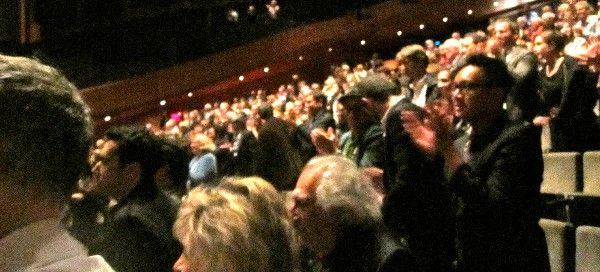 Share this with others on...