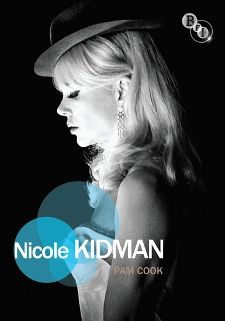 Nicole Kidman is the second subject in the BFI's 'star study' series
Nicole Kidman, by Pam Cook, Palgave Macmillan, ISBN 978-1-84457-448-9, £12.99
What makes a movie star? It's a fascinating question and Nicole Kidman makes an interesting choice as the second subject of this BFI series (after Elizabeth Taylor; before Brigitte Bardot and Sabu). Her rise to stardom in the late Eighties and early Nineties, at a time of flux for the international film industry, enables author Pam Cook to use her stoy as a hook for exploring shifting mechanisms of commodificaion and celebrity/public interaction.
It should be said at the start that a star study is not the same thing as a biography. Kidman fans whose primary interest is in stylish images and behind-the-scenes gossip won't find much to appeal to them here. On the other hand, if you already own biographic material and are intersted in deeper analysis, this may well appeal. It will also be of interest to students of the wider celebrity phenomenon and to those seeking to learn from Kidman's performance techniques - which, Cook argues with conviction, the actress uses both onscreen and off.
As with most such analyses, this book has its strong points and points at which it struggles to make its case. Star quality is rarely consistent enough to enable an individual to be neatly reduced to a phenomenon. At times Cook seems to read too much into her subject's choices. Yes, Kidman is recognised as ambitious, but have all her big decisions been primarily strategic? My own experience of stars even big ones, tells me that often they pick roles for very human reasons - because they want to work with somneone they admire, because they want to spend time in an interesting location, or simply because there's nothing more interesting available at the time. In buying into the notion of the constructed star as something more than human, Cook risks losing sight of the fact that there is a human being pulling the strings somewhere behind the curtain.
Like other studies of Kidman's work, the book wastes too much time trying to excuse or redeem Australia and has a curious approach to the race issues that film explores which elides the controversy around its handling of the subject. Whilst musing on Kidman's whiteness it inexplicably ignores the class associations of her paleness and the way that has accordingly been highlighted or hidden in various roles. It also struggles a little when it comes to feminist analysis, trying to give due weight to differing philosophies such that it ends up saying very little of anything. That said, much of Kidman's work speaks for itself in that regard, and Cook is good at drawing this out through the nuances of description. Her film by film analysis of intention and technique works fairly well and it's interesting that she chooses to examine To Die For, often neglected yet pivotal in the actress' career. Her Brechtian interpretation of Kidman's performance therein may help to redeem it in the eyes of fans who struggle to see how it fits within the wider body of the star's work.
Probably the strongest part of this book is Cook's take on Kidman's management of her public image, including her handling of the press and her ventures into other areas of celebrity such as fashion. This is a side of Kidman's work that has received considerably less prior attention and it's interesting to see how it fits into her career path. Here, as in the ensuing exploration of fandom, the book is more interesting as a contribution to wider academic discussion on star status than in terms of what it has to say about Kidman herself, but that's not a bad thing. The shifting nature of the Hollywood system of this juncture means that its insights will likely increase in value over time, as Kidman's journey carries us through from the dominance of a studio-centred age to an era of much more democratically decreed - and therefore vulnerable - star status. In showing how one woman has avoided the pitfalls along this route, Cook has highlighted what may well become the most important aspect of her legacy.
Share this with others on...