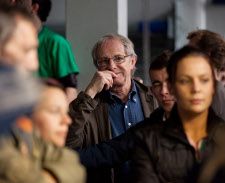 Ken Loach on the set of the film
Tuesday was a typically overcast Glasgow day, but at the UK première of Ken Loach and Paul Laverty's award-winning new film at Glasgow Cineworld there was an atmosphere of celebration. The reason was clear: The Angels' Share had come home.
The film, which won the Special Jury Prize at this year's Cannes Film Festival, tells the story of a group of disadvantaged young Glaswegians, and most of the filming took place in the city. About filming in Glasgow, Ken Loach said, "It's a good city, with a great history and a great culture." Jasmin Riggins, who plays Mo, one of the young people, said, "It's a Glaswegian film. You've got to go and see it." The film showcases the city, including famous landmarks like the spectacular Necropolis cemetery.
For several members of the cast, this was their first leading rôle, and they are now being hailed as stars. Riggins loved the experience. "It was incredible, especially working with Ken. We were working hard, but it was more play, and more fun." All the actors enjoyed relating to Paul Laverty's script. Speaking about her character, Riggins added, "She's such fun to play. She's quite feisty. Every other word that comes out of her mouth is a sweary word. So it was quite fun to play a character that's quite different from yourself."
More seasoned actor Gary Maitland, who also appeared in Loach's Sweet Sixteen, said of his character, Albert, "He's a bit dozy and stuff. With Paul [Brannigan, who plays lead character Robbie], I get all the one liners. He's funny, and I generally am funny. It was an absolute pleasure playing him."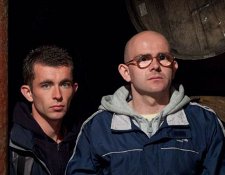 This is also a film about whisky. In preparation for making the film, the cast, like their characters, learnt about the process of distilling. Jasmin Riggins said, "We learnt so much about it, which was incredible, because it was things we never thought we'd learn about it. Me personally, I didn't think I'd ever take an interest in whisky, but I did. It was really interesting."
As with most of Loach's films, The Angels' Share has a strong political message, but unlike much of his previous work it has a more comedic feel. Loach said that he didn't feel that this was a break with tradition. "These characters, you could make a comedy or a tragedy. Their situation is desperate." Between its comic moments, the film certainly has its darker points.
With the referendum on Scottish independence approaching, Loach was asked whether he would consider taking Scottish citizenship. He said, "It would be very tempting, particularly if you can make a country that is run on rather more democratic and fair lines than what we've got in England at the moment." He stressed, though, that independence would only be the beginning. "Independence is one thing. It's what comes after, whether [Scotland] becomes just another basically capitalist European country, or whether it strikes out on its own."
The auditorium was packed for the eagerly anticipated screening. As it was about to begin, Loach thanked the cast and crew, and said that the Glasgow audience was the most important one to him. "This is your film," he said. We could see what he meant.
Share this with others on...