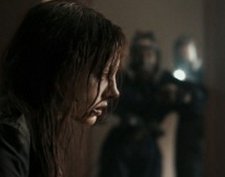 Fancy exploring your inner demons? With 40 movies to see in four days, I didn't plan to review anything from this year's Dead By Dawn horror film festival. But the sheer quality of shorts programmes moved me. They were so good. They totally need to be noticed. Saturday was an 18-hour nightmare. Never mind happy endings, I just wanted to wake up alive.
To find that new angle on an idea repeatedly cudgeled to death is always hard. In The Unliving, the zombie 'infection' has been going for a quarter of a century. Technology has adapted them for modern society. Control-implants. They're now the country's most valuable economic resource. Zombies do everything. Elder-care. Catering. Smile at the check-out, serve me some coffee. There's one that's an opera star with a fanbase following. Finding a cure would destroy society as we know it. Fuck that. And keep that drug which restores memory in short supply for goodness sake. Dead? Terminating an 'unliving' is a criminal offence. Even for the 'catchers.' You've got to watch them. One zombie catcher finds his mother among the unliving. Idiot. He takes her home, cleans her up, ties her young but utterly disgusting body to the bed - before the girlfriend walks in. The Unliving is cool, brave and Swedish. Don't take granny. Especially if you think she has Alzheimer's.
What else? There's An Evening With My Comatose Mother, then Murderabilia. This is grim and minimalist. There's a collector of murderabilia (murder-related collectibles), a graphic interview with a murderer, and one very sick disgusting collector. Says Adele Hartley, the programming director introducing the film, "I wanted to scrub myself with a brillo pad afterwards."
The Cutting Edge shorts in competition were no less impressive. Eight movies, all of them like a neat sledgehammer to the brain. Estomago has very distinctive zombies. Barricade yourself into some part of your brain that Carl Jung can't reach, cos these nasties mean you're sick, real sick. Where's your wife? She still loves you. A photograph. The audience sheds real tears. Then there's that silly old woman in The Coldest Caller, Mrs Evans. Seems to be expecting a plumber. But Death comes calling. He's standing there in full Grim Reaper guise and she still thinks it's a plumber. With delicious, very English aplomb, she has tricks up her sleeve that remind me of Monty Python at their best.
Quedate Conmigo (Stay With Me) was 20 minutes but I could have enjoyed it at feature length. Ever had a fight with the girlfriend? If you throw something and kill her accidentally, that's bad, real bad. There might have been things left unsaid. But if she won't stay dead, that's worse. Hilariously gruesome, this film explores more post- break-up situations, and with more insight and warmth, than anyone should have to endure.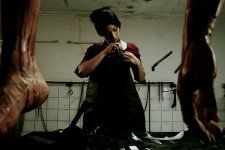 Zombies are very nasty in Play Dead, but ignore them cos this is about dogs. Very cute dogs. Each dog has an intertitle telling us its name, likes, dislikes and special attributes. Get to know the dogs and ignore the revolting gory apocalypse where humans and zombies are bludgeoning each other to death. Where are the doggy-chews? Hilarious. But my favourite film in the Cutting Edge Shorts competition was A Function. With that South Korean flair for really sustained, bloody, psychological horror (think A Tale of Two Sisters), director Hyun-soo Lee has crafted nine minutes of fingernail-scraping terror that gave me that lovely warm-and-cold feeling that only happens when I don't breathe. A beautiful girl sits in a classroom, solving a maths quiz with something approaching controlled panic. If she fails, something bad will happen. The student in the next seat has been gruesomely decapitated.
In the features, Macabre is one of those tasty blood-gushingly psychological tortures in three neat and tidy acts. Even the trailer is hard to watch without looking away. Act One has two newly weds, Adjie and Astrid, with three of their best friends. Chill out, relax in Bandung, Indonesia. Head for Jakarta, but give a lift home to a strange girl who says she's been robbed. In her mother's house, we enter the pristine, bourgeois world of Dara, who insists on repaying kindness with food and drink. And torture. Once drugged, our guests enter a blood-dripping, nightmarish world of no escape, their bodies neatly sliced one by one and professionally packaged. Astrid gives birth. Dara's calm, sophisticated composure never breaks its stride. She coolly empathises with Astrid's pain before pointing out that baby is going and, if there's a problem with that, hubby will experience even more painful dying. Viewing permitted.
As the film is introduced at the end of a all-night film programme, we are told not to worry if we are already tired. The plot is simple and nothing to fret over. "Pink blobs are people, red buckets are blood, and whirring things are chainsaws." It's a classic story where the point isn't revealed till the end, and the suspense, sadistic pain, and surreal nastiness don't stop for a second. A satisfying if rather colourful conclusion to a long night.

Awards
Winner of the 2012 Audience Award, Best Cutting Edge Short: The Coldest Caller.
Winner of the 2012 Audience Vote, Best Long Short: Murderabilia

Watch the trailers
The Unliving
An Evening With My Comatose Mother
Estomago
Quedate Conmigo
Play Dead
Macabre
Share this with others on...