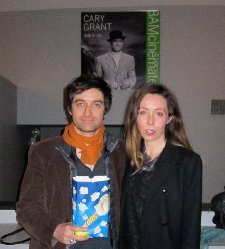 Mathieu Demy and Anne-Katrin Titze in BAMcinématek Photo: Ed Bahlman
Looking for an appropriate location for my interview with Mathieu Demy, we followed the signs saying "Pool" on the 11th floor of the Empire Hotel, only to find the doors locked. Behind the neon sign on the rooftop would have been perfect - a neon sign features prominently in his film. We settled on the mezzanine overlooking the lobby.
My first question to Demy, who has brought his intricate debut feature Americano to New York's Rendez-Vous with French Cinema, was, if perhaps Lars von Trier gave him obstructions. It wasn't Lars, but I was correct with regard to obstructions - Mathieu gave them to himself.
Here are his four obstructions. Number one: All flashbacks in the film come from his mother Agnès Varda's 1981 film Documenteur, which featured him as a little boy. Number two: Never let go of the main character Martin, unless he faints in the film and loses himself. Number three: move from wide angle, to travelling shots, to close-ups - approaching the core, as the film progresses. Number four: Three countries - three colours. France is blue-gray, California is avocado green, and Mexico is red.
A fifth obstruction, I would add, are the exquisitely placed neck accessories, such as an airplane sleeping-pillow and Geraldine Chaplin's neck-brace, which, Mathieu explained, "changed her body language in an interesting way in the car while driving", to resemble her famous father, as well as Erich von Stroheim. Part of the objective, the character Martin has in Americano, is "putting the memories where they belong", said Demy, "separating the adult from the child". This is precisely why this film merges past and present so effectively, looking forward to a new future.
I met up with Mathieu the next day at BAMcinématek to continue our conversation. Popcorn in hand, in front of a poster showing Cary Grant freshly off his horse in Hitchcock's Suspicion, we talked about memories and cinema and the classic movies he used to watch as a child with his father, director Jacques Demy.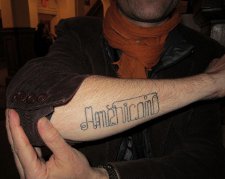 Howard Hawks' Rio Bravo (1959) was one of their favourites and the Western found its way into Americano as part of the soundtrack. Mathieu said one of his favourite films directed by his father is Bay Of Angels (La Baie des Anges,1963), next to Une chambre en ville (1982), the extraordinary musical about a workers' strike, which he called "my father's last very powerful film." West Side Story (1961) and Singin' In The Rain (1952) were two of the Hollywood musicals father and son Demy were particularly fond of. The stars of both movies, Gene Kelly and George Chakiris, were later united in Jacques Demy's lovely The Young Girls Of Rochefort (Les demoiselles de Rochefort, 1967).
The films of Robert Bresson, especially Pickpocket (1959) and L'Atalante - Jean Vigo's 1934 masterpiece on board a river barge - completed the excursion into the cinematic Demy family past. Lola (1961), Jacques Demy's very first feature film, with Anouk Aimée as the enigmatic dancer, clearly looms largest in his son's debut. Salma Hayek's character in Americano is called 'Lola' for a reason, or rather for many reasons.
Another Lola is the star of the animated film The Painting (and both films give their Lolas a co-star named Claire). I spoke with director Jean-François Laguionie and writer Anik Leray before their sold-out morning screening at the IFC Center. The previous day, Laguionie had given a master class at the School of Visual Arts and both he and Leray were impressed by the "intelligence, veracity, and pertinence of the students' questions here in New York".
"Lola is only one of two characters in this film who has a proper name, unrelated to painting" said Laguionie. When I asked for possible fictional godmothers, like Marlene Dietrich's Lola in Josef von Sternberg's The Blue Angel (1930), Demy's Lola, or Nabokov's variation, they both nodded, then shook their heads at the same time, and smiled.
Their little Lola, one of the adventurous half-done drawings within the painting in search of the artist who didn't finish them, is not really a seductress. "She is a wild little girl," said Anik Leray, who liked the juxtaposition of her unruly personality with "such a very feminine name". Two paintings visited by the runaway crew of characters, headed by Lola, parallel the trappings of war and carnival, a permanence that should be seen together.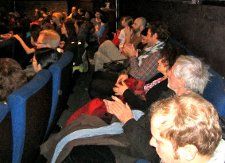 "The only way to end it is to exit the painting," said Laguionie. The carnival in Venice features a variation of Thomas Mann's Death In Venice and the three musicians are taken straight out of the Visconti film of the same name. "A multifunctional death" Leray calls it, and Laguionie mentioned that "the flowers have a similar role to play".
These flowers reminded me of a dangerous mixture of Hitchcock's tunnel of love in Strangers On A Train (1951), Disney's Snow White And The Seven Dwarfs' (1937) forest, and a car wash. After an initial misunderstanding, which car wash film I meant, and my clarification, that I meant the actual thing, not a movie, Laguionie laughed and told me that he was once stuck in a car wash and frightened and that his creative unconscious may have worked on that scene. "I wanted to talk about creation", Leray called her starting off point for the story. "It's a film about fear", added Laguionie, and "children completely understand". Judging from the packed house for this Sunday matinee, they did and enjoyed it immensely.
Share this with others on...