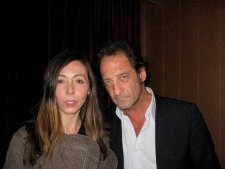 Anne-Katrin Titze and Vincent Lindon Photo: Ed Bahlman
Vincent Lindon says a line in the film Pater, that states " If it's a film, it is true." When I met up with him at the Empire Hotel at Lincoln Center, I asked the actor, when he first discovered this truth for himself. "The first time I saw a film and I wanted to be him", he answered, pointing to an imaginary hero on an imaginary screen behind us.
"I don't like science fiction," he added, "when it's not feasible, I leave the cinema".
His list of all-time favorite movies includes The Godfather (1972) and two Raoul Walsh classics, the noir White Heat (1949), and Pursued (1947) with Robert Mitchum. At the top of Lindon's list stands King Vidor's 1949 The Fountainhead. "Gary Cooper can do no wrong", said Lindon, and described, how Cooper's physicality and expressiveness make him unique. The quintessential American hero, one could say. "He wears a simple white polo shirt and looks fantastic."
We moved on from his idol's style to Lindon's own, to talk about Lindon's grandfather's shoes, his father's shoes and why Lindon never throws out any of his well-selected clothes. You do get a glimpse into his walk-in closet in Pater. What you see and hear Lindon do in Alain Cavalier's film, is "all true". Although the actor said he has no political aspirations, this film gave him the opportunity to "talk politics", which he loves to do.
When I brought up some of the formal parallels of Pater to Jafar Panahi's This is Not a Film This Is Not A Film (2011), the Iranian filmmakers non-film under house arrest in Tehran, Lindon said, that he had not yet seen the film, but definitely will. Two men sitting across from each other in an apartment, filming each other, talking, eating. For moments one may forget that one scene takes place in Paris, and the other in Tehran, where the filmmakers are facing possible prison sentences, for doing the same thing, the other two might be rewarded for with state honors.
Mathieu Amalric could hardly believe what he read in Corneille's play L'Illusion Comique from the 17th century, when he began to seriously work on transposing it onto film and into the 21st century. "Vain Phantoms" and "Living Ghosts" are some of the phrases Corneille uses for his projections in this tragicomedy set in a cave, which immediately made Amalric think of modern technology.
Commissioned by the Comédie-Française as a TV production, Amalric had to obey certain rules, he told me. He had to choose a play that had been in the theatre the previous year, he couldn't update the text and had to use the actors from the Comédie-Française. This was actually one of the reasons, why he set the play at the Hôtel du Louvre, right next to the theatre. "With only 12 days to shoot, we could save time, because the actors only had to go next door in the evening", to perform on stage.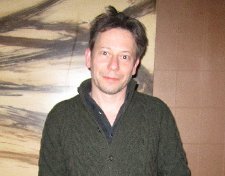 Amalric, who tried to be "faithful to the spirit of the Corneille play", also chose a hotel as location because many things can go on at once, from attic to basement - "a softness with violence underneath", as he put it. We spoke about other hotel films we liked, including the two by Sofia Coppola, Lost in Translation (2003) and Somewhere (2010). Amalric mentioned he enjoyed hotel films with Jerry Lewis and I spoke of my love for Top Hat (1935), with Fred Astaire, directed by Mark Sandrich. But it was Jean-Luc Godard's Détective (1985), that inspired his Screen Illusion. "How to film monologues?" was one of his greatest difficulties and the "slavery with women in those big companies" made him turn servants into assistants in a company that produces Modern Warfare video games.
Read more of our Rendez-Vous with French Cinema coverage.
Share this with others on...