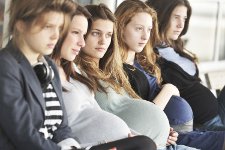 17 Girls is Delphine and Muriel Coulin's first feature
The 17th edition of Rendez-Vous with French Cinema, the Film Society of Lincoln Center and Unifrance Films' celebrated annual showcase of the best in contemporary French film, hits screens at The Film Society, the IFC Center and BAMcinématek, March 1-11.
The opening night film of the 2012 Berlin Film Festival Farewell My Queen (Les Adieux à La Reine) takes us behind the scenes at Versailles with Marie Antoinette (a glorious Diane Kruger) and her ladies-in-waiting from July 14 to July 17 1789. Rumours, fashions, jealousies, unrest with candles in corridors. Léa Seydoux (Gabrielle in Woody Allen's Midnight in Paris) plays Sidonie, the queen's faithful reader and secret embroideress, who has a much bigger job than checking the maps between Versailles and Metz. "I take notes until the day I die," says one of the characters and so should you, while you glimpse the beautiful women, who discuss dresses the colour of baby-crocodiles, which turn out to be the colour of hope in questions of life and death.
Two films in this festival are based on US news stories, transposed to French seaside towns - a small Massachusetts fishing town becomes Lorient in Brittany and NYC turns into Marseille:
17 Girls (17 Filles), Delphine and Muriel Coulin's first feature, explores the dynamics of a group of high school girls plotting to become pregnant at the same time. The Coulin sisters' gaze on their subjects is fresh, unprejudiced and realistic in its depiction of the passions and force of teenage girl friendships. Coinciding with a miraculous ladybird infestation in the small seaside town of Lorient, we follow Camille (Louise Grinberg) and her friends through their everyday life, while the wind blows from the rough sea and promises a much brighter future than the parents in the boring town present to them. Unlike the Dardenne brothers' The Kid With A Bike, the adults fade into the background.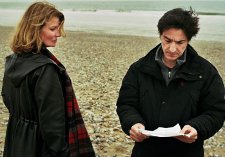 38 Witnesses (38 Témoins) has a far more sinister theme. Director Lucas Belvaux transports the scandalous Kitty Genovese case from 1964 New York to present day Marseille and investigates how it is possible that such a large number of people can claim that they did not hear the frantic desperate screams of a young woman murdered right in front of their windows. Presented as a thriller, the questions of moral responsibility and the price to pay for lack of empathy will remain with you, long after the movie is over, if you care to let them.
Pater as the title suggests is, at heart, about fathers. The film fearlessly oscillates between fact and fiction, with director Alain Cavalier as a faux French president and Vincent Lindon as his prime minister. They contemplate how to establish maximum wage, which is only fair, when you have minimum wage, and discuss election strategies, while having picnics with fictional security in the forest. Political banter is interrupted by Cavalier's darling cat stretching, delicious truffles and asparagus, and a visit to Lindon's impressive walk-in closet, that Cavalier compares to Bluebeard's castle. This is a boys' film, young and old, no woman makes any substantial appearance, if you overlook Inès the tie, a slightly chauvinistic pars pro toto. At times reminiscent of Panahi's essential This Is Not A Film (2011) in form, it lacks the actual urgency. Nevertheless, as Lindon says, "If it's a film, it is true."
The Screen Illusion (L'illusion Comique) is Mathieu Amalric's take on Corneille's 17th century play L' Illusion Comique, commissioned by the Comédie-Française, moved into a 21st century hotel. "Believe only what you see" warns Alcandre, an omniscient wizard in Corneille, who is now a concierge at the Paris hotel. What is most striking, besides the classic text in verse in new context, are the colours in this film. They are very bright and sunny with lots of warm orange and gold tones that make even the messiest rooms ooze warmth and the ugliest man lives in the warmest of them all. This is a dense universe - the cavern of the play, where a father magically watches his son's past, turns into tapes from the surveillance camera room in the hotel basement. The creativity is impressive, but it is hard to warm up to any of the characters and care what happens to them in this comedy turning tragedy turning tragicomedy.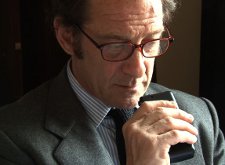 The Painting (Le Tableau) is not only a visually splendid animated film, Jean-François Laguionie lures you into metaphysical frames before you know what happened and you enjoy every moment of it. And your children will do, too. In a golden frame we meet a society in trouble. There are the fully painted characters, who are the aristocracy within the painting and control the lives of the half-dones. The "sketchies", rough drawings, are the lowest in the hierarchy. Although the ruling class insists that "there is no elsewhere", a gang of fearless personalities from each class, go on a fantastic journey to exit the frame and find the painter, who created them and then abandoned them in these less than perfect circumstances. How they get to Venice, end a long war, meet a Modigliani Virgin Mary and solve a riddle in the dunes is so wondrous that you have to enter the picture yourself.
The centerpiece screening is Pathé's newly restored version of Marcel Carné's Children Of Paradise (Les Enfants Du Paradis).
In addition, Benoit Jacquot, Delphine and Muriel Coulin, Vincent Lindon, Mathieu Amalric, and Jean-François Laguionie will be attending their public screenings.
For more information, visit the official site.
Read Part Two of our assessment of the season, here.
Share this with others on...