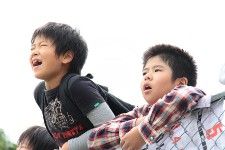 Koki Maeda and Ohshiro Maeda in I Wish.
I've commented in the past on the differences between audiences in different countries - such as Spaniards' impatience with delayed starts or defective subtitles - and I spotted another one during the screening of Los Pasos Dobles (The Double Steps). There is a moment in the film when a goat has its throat cut as the camera hunkers in close for a good look - a sure-fire way to ellicit at least a gasp from your average British screening. In San Sebastian, however, there was not so much as a mutter. Then again, it is possible the audience were sitting in the same sort of confused silence as I was, as Los Pasos Dobles is one of those gorgeously shot sort of films that is more of an conundrum than a straight forward narrative. It is also one that I suspect would benefit from a double watch.
Because I like to see films as 'cold' as possible - ie without spending hours scouring press notes and trailers beforehand - I only discovered later that this fictional film by Isaki Lacuesta, which has now gone on to win the Golden Shell (full story), is a companion piece to his documentary El Cuaderno Del Barro (The Clay Diaries). This latter charts the work of Miquel Barceló, a Mallorcan artist who does much of his work in Africa - and I'm told by fellow critic Neil Young over at Jigsaw Lounge that it is an interesting piece. The aim of Los Pasos Dobles seems to be to take a dual approach, examining the effect of Africa on the artwork of Barceló, while at the same time exploring the shifting sands of the life of French writer and artist François Augiéras, who is supposed to have created a 'sistine chapel' style masterwork in a desert bunker. The detail of all this is probably too much for a capsule review but suffice to say this is an impressionistic charting of the two men's life and work, as Lacuesta gives everything a mythicial sweep, probing Augiéras's facets through multiple identities at the same time as immersing us in the landscape of Barceló's artwork. Dense and mysterious, funny and elegaic by turns, it is a mysterious, dreamy trip that never fails to be interesting to watch even as it proves impenetrable to dissect.
Much more straightforward - and one of my favourites of the festival, is the latest from writer/director Daniel Sánchez Arévalo. His previous two features, Azuloscurocasinegro (DarkBlueAlmostBlack) and Gordos (Fat People), proved he could handle both comedy in a dramatic setting and large ensemble casts. Here, he strips things back to focus on a much tighter plot and group of people, while going all out for laughs. The result is his best film yet.
When Diego (Quim Gutiérrez) is ditched the week before his wedding by his bride to be, he finds himself with the unfortunate job of telling a half full church that he didn't want to mention it any sooner in case Toña (Alicia Rubio) changed her mind. Swigging booze by the altar afterwards, he and cousins Julian (Raúl Arévalo) and Jose Miguel (Adrian Lastra) hatch a plan to go back to the village where they used to spend summers in a bid to find out if Diego can reconnect with his first girlfriend Martina (Inma Cuesta). With a sweet subplot involving the post-traumatic stress suffering panicker Jose - the sort of role Hugh Grant would play if this were British - and Martina's young son (Marcos Ruiz), and a rather more roustabout farcical sideline provided by Antonio de la Torre's town drunk, there is plenty here to enjoy. What is interesting about Arévalo's films is how much he clearly likes the characters he writes about, which means that we quickly take them to our hearts as well. Although much of the narrative is fueled by testosterone-tinged humour, it is the friendships that lie at the heart of the film which are the key to its success, offering an altogether more heartfelt generosity of spirit than the laddish one-liners that pepper the narrative might suggest.
Friendships also lie at the heart of Hirokazu Koreeda's sweetly told childhood adventure Kiseki (I Wish). Somehow Koreeda manages to tell his wistful little story about Koichi (Koki Maeda) and his younger brother, Ryu (Ohshiro Maeda), who find themselves separated by a parental split, in a way that never tips over into sentamentalism. A fact that didn't go unacknowledged at San Sebastian Film Festival, where Koreeda was honoured for his screenplay.
Koichi is living with his mother and grandparents in a small town that nestles in the shadow of a dust-spewing volcano, while Ryu is living with his struggling-musician dad in the city. When Koichi hears that miracles can be granted to those who see the high-speed bullet trains pass one another, he and Ryu hatch a plot to try to reunite their family. Koreeda keeps us with the kids, exploring their firm belief in an ability to change the inevitable, which even in the face of evidence to the contrary, is endearingy robust. Subplots and asides focus on the inconsequentialities of life but its the children's friendship that holds the focus and leaves you wishing you could join them on their adventure too.
If I Wish is ultimately about generosity of spirit then Johnnie To's hit and miss Life Without Principle offers a look at the flipside of that coin. The latest from the prolific Mr To, sees him turn his attentions to the banking crisis for his latest comedy/crime drama. "Greed is human nature," says one of his charcters - and To is out to expose it and punish it in all of its forms. A convoluted plot involving flashbacks, the Greek banking crisis, a potentional gas explosion and a robbery gone bad are just some of the situations To uses to explore the tenets of Henry David Thoreau's essay Life Without Principle. There's too much going on for any of it to realise its full potential, with the strongest scenes involving the excellent Lau Ching-wan offering some high comedy as triad Panther, whose lack of greed and general naivety see him haplessly career through the movie, somehow always ending up on top. Enjoyable to a point but frustratingly convoluted at times - and with ill-advised flashbacks in time - there is enough to make this worth a look but insufficient to elevate it to a place among To's best work.
Share this with others on...