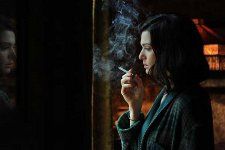 The Deep Blue Sea is just one of the highlights at this year's festival
On the eve of my third San Sebastian Film Festival, with a week of films stretching ahead of me, it promises to be another excellent festival of cinema, celebrating the best of the new and the old. The retrospectives, which are always strong, this year focus on The Last Generation of Chinese Film, modern American noir and a Jacques Demy retrospective, at which I'm finally hoping to get to see his 1961 feature debut Lola.
I've been lucky enough to have already seen a handful of the new films showing, stretching from the frothy, funny French romcom Romantics Anonymous to the deadly serious but brilliantly acted Peter Mullan flick Tyrannosaur and the gripping and unsettling American indie debut from Sean Durkin Martha Marcy May Marlene, which features a knock-out central performance from Elizabeth Olsen.
Aside from those, the films I'm most looking forward to catching are, in no particular order:
Shame - Artist-turned director Steve McQueen and actor Michael Fassbender proved a winning combination in McQueen's debut Hunger, so I'm hopeful of a repeat showing with this New York set drama about a thirty-something unable to keep control of his sex life. That it co-stars the ever-excellent Carey Mulligan is another selling point.
Cousinhood (Primos) - Lurking in the they-only-screen-twice-so-don't-miss-em Made In Spain section, this is the lastest from Daniel Sánchez Arévalo, whose previous films include Fat People (Gordos) and Azuloscurocasinegro (DarkBlueAlmostBlack). His films always seem to manage to be funny and even when his characters do the most outrageous/despicable things, he somehow keeps you on their side, which is a neat trick that deserves encouraging. Cousinhood charts the story of a man spending a weekend with his cousins after his girlfriend ditches him just days before their wedding and Arévalo has described it as his most personal work to date, which adds to the intrigue.
Take This Waltz - I was a huge fan of Sarah Polley's feature debut Away From Her, so I'm eager to see her follow-up, which has been getting some excellent notices out of Toronto. Actress Michelle Williams has barely put a foot wrong in the past few years and she sounds perfect for the role of Margot, who finds herself torn between two men. It appears this is going to be another dissection of love and relationships. Plus, I'm intrigued to see if Seth Rogen can be encouraged to produce a performance that offers more depth than usual.
The Deep Blue Sea - Fresh from its Toronto Film Festival premiere, where it has been picking up glowing reviews, it features the dream combination of directing excellence - Terence Davies - strong source material - Terence Rattigan's play - and a winning pair of central stars - Tom Hiddleston and Rachel Weisz. I'm trying desperately not to hype up this tale of a self-destructive love affair too much in my mind... but it's proving tricky.
Albert Nobbs - Sometimes a film comes along that strikes a personal chord and so it is with this - the story of a woman who pretends to be a man in order to make her way up in 19th century Ireland. I was once in a production of The Singular Life Of Albert Nobbs, as, ahem, a prostitute (no laughing at the back). But having lived and breathed the play for around three months, I'm keen to see what they've done with it. The fact that it stars Glenn Close - who will be receiving the much-lauded Donostia for her lifetime of work at this year's festival - certainly bodes well.
So, San Sebastian, let's reel them in...
Share this with others on...