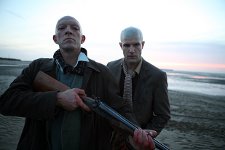 Vincent Cassel and Olivier Berthelemy
Our Day Will Come marks the feature debut of Romain Gavras, who is probably best known for his controversial pop videos, including M.I.A.'s Born Free (watch it on Vimeo, below) - which was banned from Youtube last year thanks to a shocking moment when a youth being shot through his pretty red head - and Justice's Stress, which features youths on a nihilistic rampage.
His debut deals with similar themes - telling the story of a pair of 'redheads' Patrick and Rémy - veteran Vincent Cassel and Olivier Berthelemy - who, thanks to a mixture of paranoia, boredom and power-gamesmanship, embark on a violent spree.
And despite his background in music videos, Gavras was determined not to opt for the sort of choppy editing that frequently accompanies music directors' moves to a longer format.
"I really had in mind not to make a film that was from a music video director, overly cool in the editing and that sort of thing. " he says, when I catch up with him shortly before the film screens at Edinburgh Film Festival. "That's why the pace of it is a bit slow."
When I ask about the redhead element being a crossover from the M.I.A. video, he says: "I think I still have my obsessions. There's lots of them."
Certainly the characters in the film are obsessional. Rémy, a shy and bullied teenager, finds himself taken under the wing of the older Patrick - a psychiatrist suffering from a mid-life crisis and a desire to dominate. Finding common ground because they are both ginger-haired (although in an absurdist twist, Patrick's hair, in particular is barely that colour), they embark on a roadtrip that becomes increasingly sinister.
"That was the idea," says Gavras "To take a stupid story but treat it very seriously. The fact of not making them redheaded is even more absurb. They think they belong to a community that doesn't exist... and they don't even belong to it.
"I think for them it's more the paranoia of being the targets. The young kid has a lot of reasons, like all young kids in Europe, to be rebellious and violent but he's very confused and very paranoid at the same time."
Surprisingly for a film that contains a considerable amount of violence, Gavras insists that it is many ways a "romantic comedy".
"Romantic because it's the story of those two guys who have a weird relationship and romantic because of the northern landscapes," he says. "And there's a lot that's intended to be funny."
Casting the film proved to be easy as Gavras knew both Cassel and Barthelemy beforehand.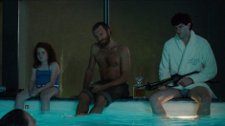 "They have a chemistry, so it was really good for the film," he says. "It's hard for actors when one is a big actor and one is not well known but I think it works quite well because they have this chemistry between them."
The actors and crew stayed under the same roof during the shoot and it seems that Cassel is not averse to taking his role home with him.
"Vincent was bullying Olivier really seriously in real life all the time," says Gavras "Going in his room naked in the middle of the night and going, 'Wake up! Wake up!'
"It was weird because the other one would come on the set in the morning and say, 'Please tell Vincent to stop, I can't take it any more.'"
Both actors were prepared to go the extra mile for the script, however, including shaving off all of their hair and facial hair for key scenes.
"Through the whole film they were not going to do it," says Gavras. "The young one was like, 'If he doesn't do it, I'm not going to do it,' And Vincent was, like, 'We'll see on the day'. I put on my best talk and managed to persuade them. Vincent's smart, he knows what's going to look better and he knows that CGI is not as good or as powerful."
And it seems that the move paid off, particularly in terms of publicity as Cassel shaved his hair off just before he was due to present a film at Cannes - and become the front man for Yves San Laurent.
"So he came into Cannes with no eyebrows, no hair, no nothing," says Gavras. "Being the frontman for YSL... that's not a good look."
And the dramatic change resulted in Cassel being continually asked if he was sick.
"He was completely asked that question. And he was being serious about it. He was saying, I won't answer the question. So there were a lot of rumours about it. It was great for the film."
When it comes to what's next for him, Gavras won't be drawn on a specific subject, but he adds: "They say you make the same film every time just with diferent stories around it, I think Fellini said that. Except if I accept a horrible Hollywood script. After the music videos I've been sent some of those. I way prefer to do things like this. It's more fun."
Our Day Will Come is on limited release from Optimum Releasing in the UK now and will be released on DVD and Blu-ray on August 22.
Share this with others on...