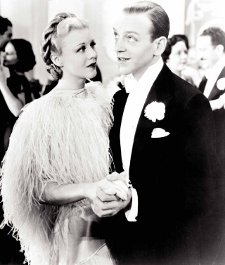 Rogers in her Top Hat ostrich-feather dress
By way of explanation for bringing excess luggage to London in 1969 for her year-long stint on stage as Mame, Ginger Rogers said: "I believe in dressing for the occasion. There's a time for sweater, sneakers and Levis and a time for the full-dress jazz. As for the little touches, well, a year is quite a long time and they make one feel at home."
But "dressing for the occasion" frequently extended to designing many of the lavish gowns she wore on film. Perhaps she sensed - as did Loie Fuller, whose revolutionary techniques in the cinema's early days had captured the power of combining costume effects and dance - that the delightful flows and spirals of a dance are just as much a function of the dress as the dancer or the even dance steps. As modern Fuller exponent, Jody Sperling, explains: "When you move through space, you displace air and create a wake of spiralling eddies around your body. What the fabric does is render these vortices visible to the eye."
This is beautifully demonstrated in one of the most famous gowns in Hollywood history – the ostrich feather dress from Top Hat. Ostrich feathers have properties that make them very desirable in dressmaking. With a remarkable combination of softness, silkiness, durability, and flexibility, they also have a unique ability to remain static free. When Astaire serenades Rogers across a beautiful (if unrealistic) Venetian bridge, we are not asking if her feet are in perfect time, but standing back in amazement at how the dress glides and floats in an almost ethereal manner. The words of Cheek To Cheek are given an almost kinaesthetic presence by the softness of the feathers. Their light, drifting quality imparts an airiness and femininity to the dance beyond the power of dance steps alone. From being a mere mortal trying to avoid his advances, her character is now in love, and as dreamlike as any goddess. Even as this article goes to press, many years later, ostrich dresses are still in fashion and on the red carpet at this year's (2011) Oscars – "Hilary Swank had her goddess moment in a sequined and feathered strapless Gucci Premiere gown accented with ostrich feathers".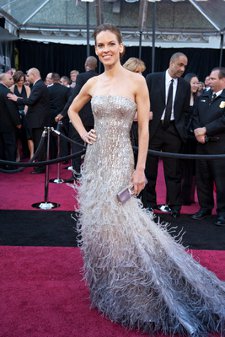 Swank looking swanky in ostrich feathers Photo: Ivan Vejar / © A.M.P.A.S.
Ginger Rogers famously claimed that: "To be a desirable dancing partner you don't have to do all the intricate fancy steps that happen to be in vogue. All you have to do is be a good average dancer and anybody who spends the time and effort can accomplish this." If Rogers took dancing seriously at all, it was probably well behind acting and even fashion in her list of priorities.
The Top Hat ostrich dress gave rise to a falling out with Astaire and the production team. The gown, she had instructed, would be made of figure-hugging shimmering satin, then encircled with ostrich feathers about neck and shoulders, and again from the hips downwards. The only additions would be art-deco style diamante jewels at the neckline, and a satin bow at the bottom of the back. The gown has a very low back in keeping with the fashion of the time (and the censorship that prevented showing cleavage). No bras were worn, and the designs cling to the body provocatively. The bias-cut – a hallmark of the Thirties – allowed dresses to match the fluid curves of the woman dancer's body by having the material cut on the diagonal.
Astaire, however, found that the feathers were getting all over his tuxedo. He was the studio's heavyweight and it came as no surprise when director Mark Sandrich asked Rogers to wear a dress she had worn before in The Gay Divorcee. Choreographer Hermes Pan would later join Astaire in a parody of the song, altering the lyrics to:
"Feathers. I hate feathers And I hate them so that I can hardly speak And I never find the happiness I seek With those chicken feathers dancing Cheek to cheek."
Rogers' manager and mother, Lela Rogers, joined the stand-off, saying Rogers would walk off the movie unless the dress was reinstated. Rogers won, and as soon as the team saw the rushes, everyone agreed it was the right decision. Astaire and Pan presented Rogers with a gold feather for her charm bracelet afterwards by way of making up.
See the dress in action in this clip from Top Hat
For the studios, costume – and elaborate ball gowns in particular – had a more financial element in these films over any love of portraying dance. Most of Fred and Ginger's films coincided with the Great Depression. They promoted an idea of escape to a magical world where the troubles of Wall Street crash poverty could be left behind, and an American philosophy of consumerism. The ideas encouraged people to think that goods were within their proper reach, and that only personal failure would keep anyone from enjoying them. These were the fantasies that kept people coming back to the cinemas through difficult times – and so the studios benefited by creating them. The publicity material for Top Hat refers to costume not as an expression of character but of consumerist display, of luxury that allows audiences to enjoy momentary vicarious pleasure from contemplating the privileges of wealth.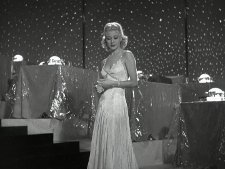 Rogers in her white Swing Time dress
Shortly after Top Hat, Fred and Ginger would make
Swing Time
together – featuring once more an iconic dress from film history. Rogers in white, Astaire in black, they dance to The Way You Look Tonight/Never Gonna Dance against a backdrop of curving black staircases climbing the lavish, shimmering white deco of their surroundings. Ginger's gown is made of silk georgette, cut on the bias and with hand-applied sequins. Small weights in the hem add to its properties on the dance floor. As the number picks up, Rogers holds one of the trailing hems to create swirling patterns through the air as she spins and climbs the stairs. Technically, it is one of their most accomplished dances together, but the effect is created to a great extent by the dress design.
Rogers was clearly very dress-conscious all her life. In her biography, she recalls details of a navy blue satin dress her mother made her as a child and goes into great detail when it was messed up during a chiding. In later life, she says she liked the musicals, "because I could wear pretty dresses."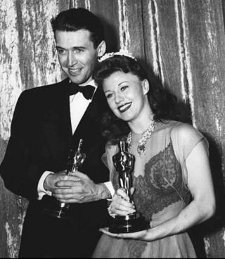 Rogers alongside Jimmy Stewart, in her racy Oscar dress
As censorship eased, dresses became more revealing. Accepting an Oscar for her performance in
Kitty Foyle
, Rogers' outfit caused people to draw breath. The outfit dispensed with modesty to combine a lacy lingerie-style décolletage tailoring down to grey peau de soie. Attention to the low neckline was further enhanced by diamonds cascading from her neck. The design, by 'Irene' (Irene Lentz), scaled back on imported materials as befitted the time. But the 'look' was in sharp contrast to the following year's Academy Awards. By then, austerity would reign as the Second World War bit deep. Rogers would wear a plain dark suit to comply with the official request to dress conservatively.
In accepting her award, Rogers had already, once again, created a fashion trend – the Kitty Foyle look – one which permanently entered the terminology of fashion. Nearly every one of designer Jill Richards' collections, for instance, included a version of the 'Kitty Foyle' look – a dark-coloured dress or suit with a white collar, inspired by an outfit Ginger Rogers wore in the 1940 movie of the same name.
In the 1970s, Ginger Rogers would finally fulfil a costume-designing dream. She would become fashion consultant and spokeswoman for the American chain JC Penney, creating a 20-piece wardrobe for 700 stores across the US. She also had her own clothing factory in Rock Island, Tennessee for her label, Form Fit Rogers.
Ginger is buried only a few yards away from screen partner Fred Astaire, at Oakwood Memorial Park in Chatsworth, California. She might have been and actress and fashionista at heart, but in the hearts of her fans, and in popular history, she is primarily the dancer that danced in high heels and backwards.
Share this with others on...